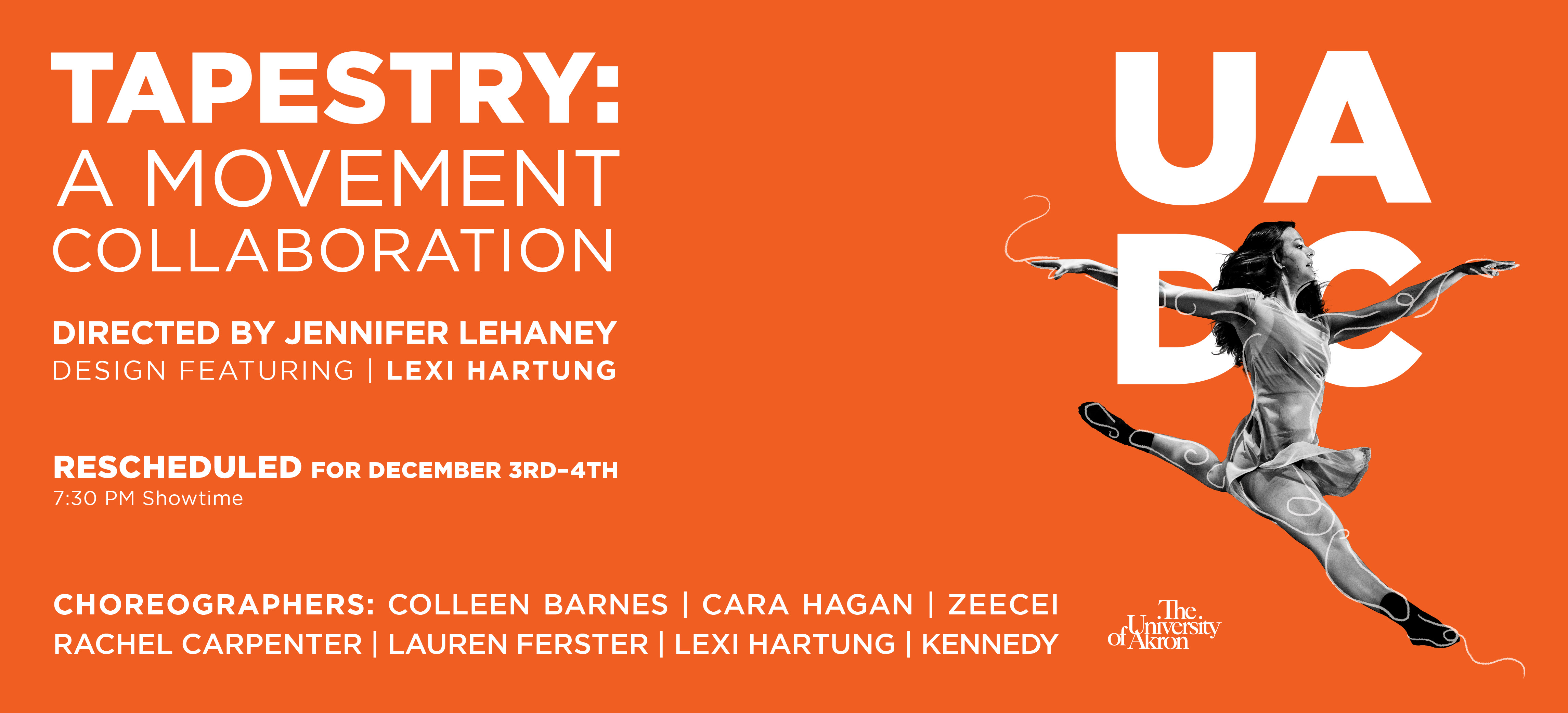 About the Production
---
The University of Akron Dance Program presents "Tapestry: A Movement Collaboration," a concert that features both faculty and student choreographed new works. Performances have been rescheduled: December 3 & 4 at 7:30 p.m. on The University of Akron's campus at the Paul A. Daum Theatre in Kolbe Hall. Doors open at 7:00 p.m.
"Tapestry: A Movement Collaboration" features a collection of works by UA Dance Program faculty members, Colleen Barnes and Cara Hagan, as well as UA student choreographers Rachel Carpenter, Lauren Ferster, Lexi Hartung, Kennedy, and ZeeCei. In its first live concert in two years, UADC presents new dances by student and faculty choreographers, representing diverse viewpoints and approaches to dance. The show's name, "Tapestry," embodies the idea that just like threads being woven together to create an artistic vision, dance and creativity can come together to realize that same purpose.
Senior Dance Major, Lexi Hartung, wanted to make her Senior premier piece special since most of her undergraduate career has been spent without live performance. Her piece, "More," is dedicated to those who've supported her journey through life. Another Senior Student choreographer, Lauren Ferster's piece, "So I Wrote Our Days," was inspired by what she hoped to achieve in her lifetime; "finding your person and being able to value every moment you get with them." Her piece embraces the quote: "Don't wait for the right moment to tell people what you feel. That moment may never come." – Unknown.
Colleen Barnes joined UA as an Assistant Professor of Dance this fall. Barnes' piece, "grit," expresses the premise of "holding on when things feel unbearable, moving through the hard stuff, and questioning our integrity when faced with new questions and shifting values—even in the face of fear." Faculty member, Cara Hagan, will present an original dance film, "Holocene Dreams," inspired by the immersive artwork of California based artist, Clayton Bailey, that was on display in Downtown Akron's Curated Storefront. Dancers weave among the fantastical sculptural installation on an explorative journey, unearthing the robots and monsters of our imaginations in the process.
Junior Student Choreographer Kennedy, regarding her piece, "I See Her Face:" "It's loosely inspired by my own journey with gender expression and identity. Specifically, what it means to be a woman, and the definition of femininity in our society both now, and long before our time."
The University of Akron Dance Program offers both a Bachelor of Fine Arts (B.F.A.) in Dance and a Bachelor of Arts (B.A.) in Dance. Students receive extensive training in technique, performance, and choreography, which is supported by academic coursework in dance history, pedagogy, and physical analysis.
This production will follow The University of Akron's Covid-19 Policy, therefore masks will be required for entry.