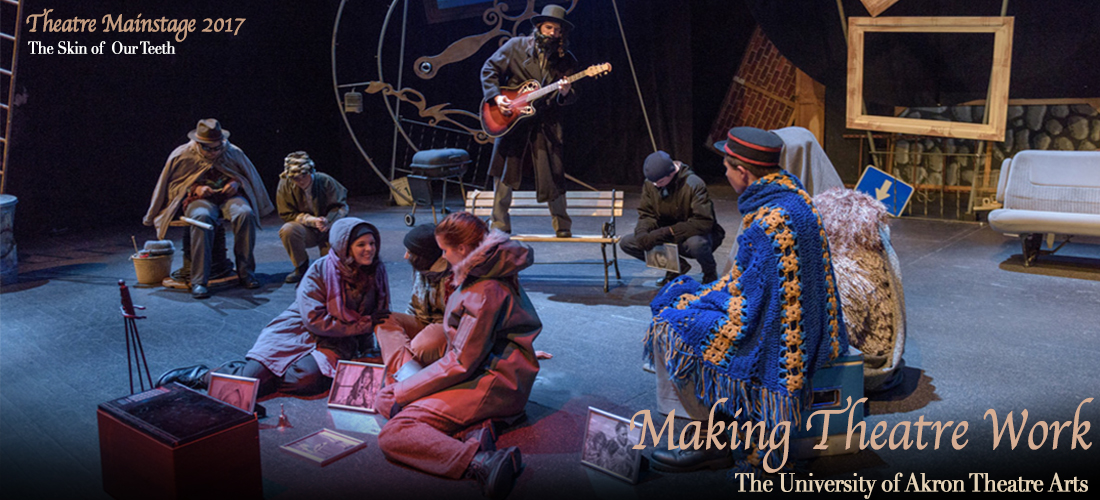 ---
The University of Akron Theatre Program
---
Explore UA Theatre Arts
---
Congratulations to UA Theatre Arts senior Jenny Boswell
Join us in celebrating graduating UA Theatre Arts major and check out her feature below.
---
Jenny Boswell
---
Major and Minor
Bachelor of Arts in Theatre Arts with minor in Business Administration
Favorite Memory of UA Theatre:
There are so many, I don't think I can choose just one... so a few of my favorite memories include:
-peeking at the set being built in Sandefur theatre
-finally getting into full costume and makeup for dress rehearsal
-the incredibly stressful (but successful) quick changes I have experienced
-receiving the note "That worked for me"
-the many backstage/post-show memories and the friendships I have created over the years.
Plans after graduation:
The plan is to move to a bigger city in the near future where I will be pursuing my career as a professional performer in film/television, theatre, music, and whatever else may come my way! I am currently looking into either Los Angeles or Atlanta.
Jenny says:
"To everyone who has supported me and helped me grow as an artist, thank you. I specifically want to thank James Slowiak for pushing me to always be my best and reminding me to never settle. Thanks to the theatre department, arts administration, the costume and scene shops, my fellow theatre peers, and of course, my friends and family. Thank you all — you will be missed!"
Best wishes to Jenny Boswell and congratulations!
---
Congratulations to the 2020 Theatre Arts Scholarship Recipients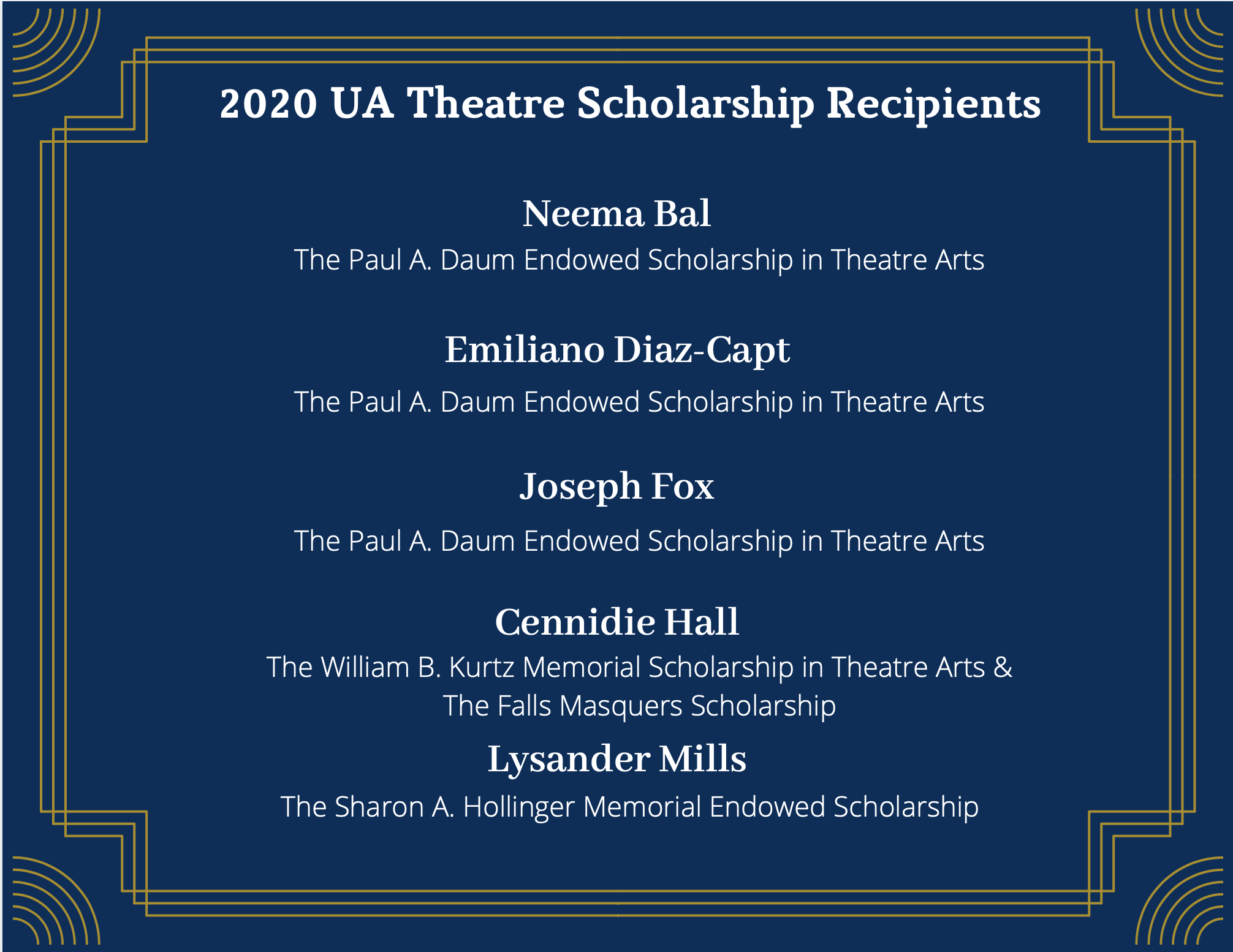 ---
Spring Main Stage Production of Richard III
---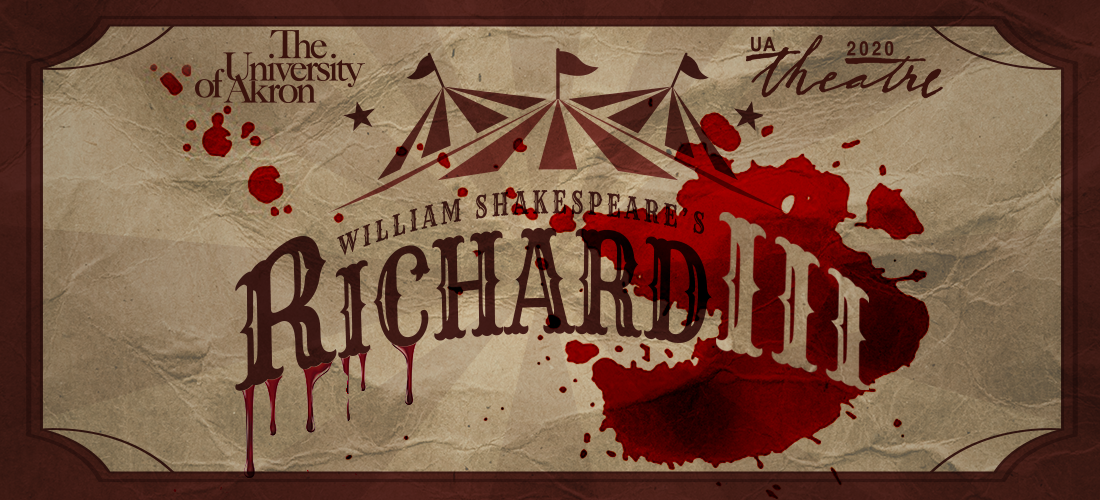 ---
Applied Learning in Theatre
---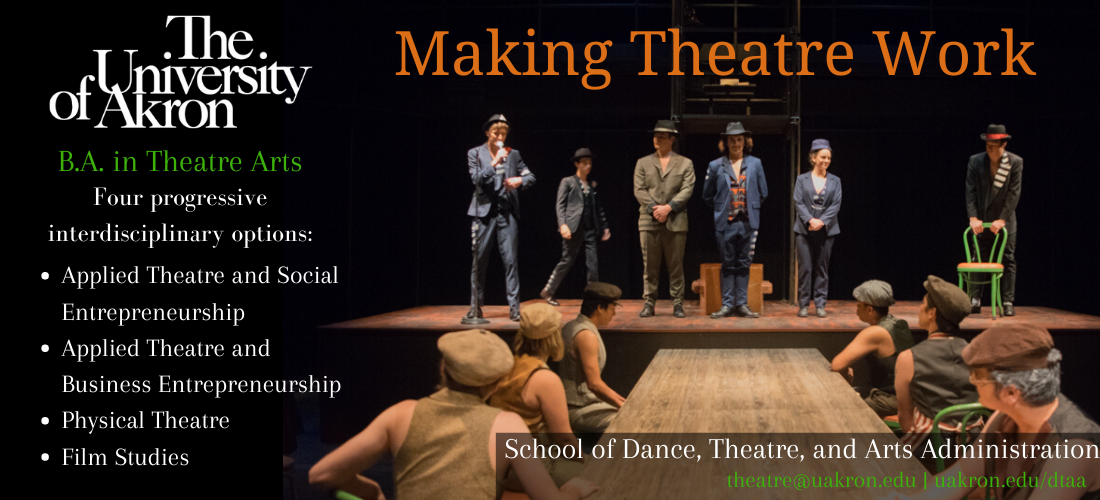 B.A. in Theatre Arts Program
The University of Akron Theatre Arts program offers dynamic courses in applied theatre for their Bachelors of Arts in Theatre Arts. UA is "one of just a handful of universities offering an undergraduate degree that focuses on applied theatre."
Read the Article Explore the Curriculum
---
Going Deeper Into UA Theatre Arts
---
Program Values
From UA faculty to UA student, these values guide the Theatre Arts Program toward academic and professional success.
Cultural Diversity
The UA Theatre Arts Program embraces diversity and promotes scholarship and theatre productions/techniques that address diversity issues. The program actively seeks to improve access to theatre and education for underserved populations.
Global Perspectives
The UA Theatre Arts Program promotes an international perspective in all aspects of teaching, production, and scholarship, including opportunities to study abroad. The study of theatre allows students to experience directly (in the classroom and on stage) the effect of world politics, economics, race, religion and technology on society and to examine in action how global values and beliefs might shape the future.
Community Engagement
The UA Theatre Arts Program believes in connecting campus and community, not only through public performances, but also by extending the traditional skills and tools of theatre into civic engagement, community service, activism, and wellness.
---
Collaboration and Inter-Disciplinary Perspectives
The UA Theatre Arts Program values an ensemble and collaborative approach to the creative process. We seek out and promote a variety of collaborative relationships with other disciplines and programs within the University and with communities outside the university to provide a vibrant exchange of ideas and techniques.
Excellence and Innovation
The UA Theatre Program strives to achieve performances of superior educational and artistic quality. We value innovation over conformity and risk-taking over security in our teaching, research, and artistic enterprises. Like our colleagues in the sciences, our role as artists within an excellent research, polytechnic institution is to be on the forefront of exploring new possibilities for theatre and performing arts to stimulate change and to enhance the quality of life in our community.
Integrity and Professionalism
The faculty, staff, and students of the UA Theatre Arts Program must challenge themselves continuously to employ the highest standards of honesty and transparency, and artistic and scholarly integrity in all aspects of their work.
---
---
UA Theatre Past News, Performances and Events
---
Visit UA Theatre Past News and Events to explore past events and performances.
---
Faculty and Students
---

UA professors among finalists of the first Knight Arts Challenge Akron
Out of over 540 submissions for the first Knight Arts Challenge Akron, 58 ideas were chosen to be used in neighborhoods and communities across Akron. Some of the finalists included UA professors, a graduate student and three theatre arts alumni....