ABOUT THE HALL
Also see
Contact Us
E. J. Thomas Hall Executive Offices
198 Hill Street Akron, OH 44325-0501

Phone: 330-972-7595
ejthomas@uakron.edu
E. J. Thomas Performing Arts Hall, built by The University of Akron and a group of dedicated community leaders, opened in October 1973 to rave reviews. Occupying three acres on the western edge of the campus of The University of Akron adjacent to downtown, this $13.9 million facility is owned and operated by The University of Akron for use by students and faculty of The University and by community and civic organizations active in the performing arts.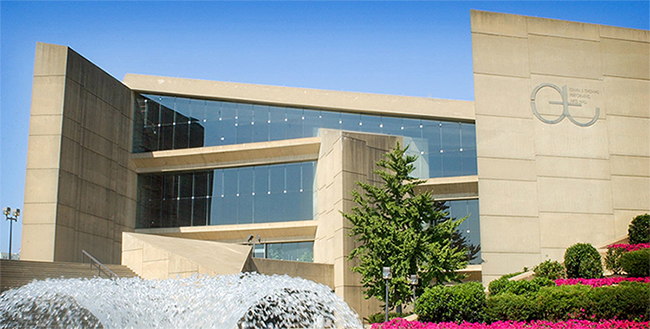 The Hall also serves as home to The Akron Symphony Orchestra, Tuesday Musical Association, Children's Concert Society and Akron Youth Symphony.
The Hall was named in honor of Edwin J. Thomas, retired Chairman and Chief Executive Officer of The Goodyear Tire & Rubber Company, long-time member of The University's Board of Trustees and a leading driving force for community progress for more than a half century.
Architects Caudill, Rowlett and Scott of Houston, and Dalton, Van Dijk, Johnson and Partners of Cleveland were approached by the university to create an overall design which has resulted in one of the world's finest multi-purpose halls in terms of design, acoustics and creative mechanisms. Theatre consultant Dr. George Izenour of Yale University and acoustician Dr. Vern Knudsen of The University of California, Los Angeles, were instrumental in the planning and development of the movable ceiling in order to regulate the volume, manipulate the acoustics and alter the physical dimensions of the main hall.
This three-level auditorium, featuring continental seating (no center aisle), has a seating capacity of 2,955. One of the focal points of the building is the movable 44-ton ceiling which can close off either the Flying Balcony or both the Flying Balcony and Grand Tier creating a one, two or three level auditorium.
Located in Goodrich Lobby and weighing in excess of 40 tons are the 27 chrome Witzman Counterweights which balance the ceiling in the house and are computer controlled. The configuration of the counterweights determines the position of the ceiling in the house. The entire transformation takes approximately 15 minutes to complete. The theatre has the ability of being used in its legitimate theatre capacity or converted into a symphony hall with the erection of an orchestra shell.