Akron Community Engaged Scholar [ACES]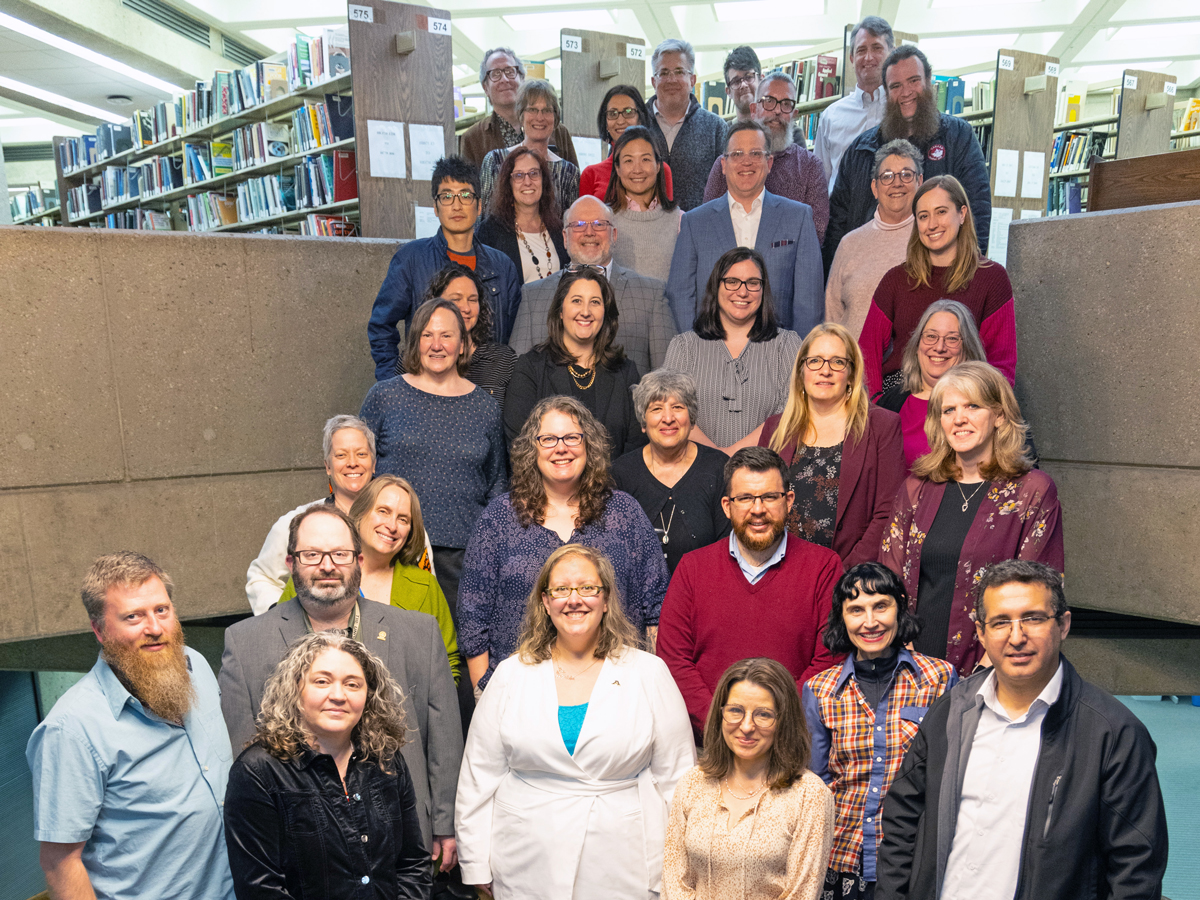 The title of Akron Community Engaged Scholar is a way to formally affiliate with the EX[L] Center for Community Engaged Learning for those full- or part-time faculty who demonstrate a commitment to public impact by connecting campus and community through their teaching, scholarhsip, and/or significant service.
---
Who are ACES
ACE Scholars are mindful of best practices, striving to create partnerships based on mutual benefit, reciprocity, authenticity, trust, and equity. They actively support a culture of engagement on campus and contribute to telling UA's community engagement story by being active users of the Collaboratory data system. ACE Scholars are connected by a shared passion, and convene for professional development, to share best practices, to mentor others, and to innovate in community engagement.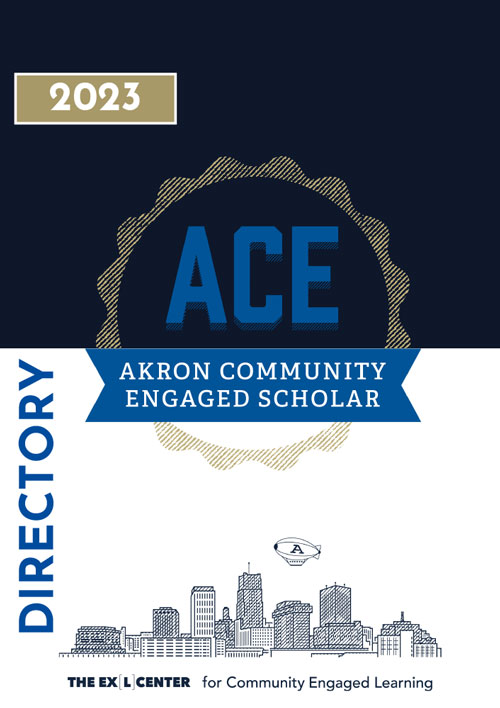 ---
Did you know?
Of 48 academic units at UA, more than half have at least one ACE Scholar and every College is represented. Our cohort includes part-time instructors, non-tenure and tenure-track faculty, staff & contract professionals, and university administrators.
---
Meet our Lifetime Scholars
ACE Scholars
Dr. Henry Askley, Department of Biology
Dr. Mehmet Baysal, Department of Mechanical Engineering
Marcia Belcher-Christine, PE, Department of Civil Engineering
Dr. Jennifer Bozeka, School of Education
Jordan Brlan, School of Engineering and Polymer Science
Theron Brown, School of Music
Dr. Aimee Budnik, School of Exercise and Nutrition Science
Julie Cajigas, School of Communication
Dr. Kevin Cavicchi, School of Engineering and Polymer Science
Dr. Sydney Chinchanachokchai, Department of Marketing
Dr. David Cohen, Department of Political Science
Juan Eduardo Contreras Barberena, School of Communication
Dr. Sandie Crawford, Office of Inclusion & Equity
Alison Doehring, Zip Assist
Dr. Shanon Donnelly, Department of Geosciences
Melissa Dreisbach, School of Exercise & Nutrition Sciences
Dr. Rebecca Erickson, Department of Sociology
Dr. Amber Ferris, School of Communication
Karen Fitzgerald, MSN, APRN-BC, PMHS, School of Nursing
Tannya Forcone, Department of Anthropology
Dr. Joseph Fox, Department of Management
Dr. Elisa Gargarella, Myers School of Art
Dr. Gary Holliday, School of Education
Drew Ippoliti, Myers School of Art
Dr. Daniela Jauk-Ajamie, C.C.S., Department of Criminal Justice & Sociology
Dr. Jodi Kearns, Institute for Human Science & Culture
Jeff Klemm, College of Business
Matthew Kolodziej, Myers School of Art
Dr. Susan Kushner Benson, School of Education
Brant Lee, J.D., School of Law
Dr. Seungbum Lee, Department of Management
Dr. Nidaa Makki, School of Education
Maeve Marino, RPA, Department of Anthropology
Dr. Timothy Matney, Department of Anthropology
Dr. Andrea Meluch, School of Communication
Dr. Randy Mitchell, Department of Biology
Dr. Barry Mulholland, MBA, CFP, ChFC, Department of Finance
Dr. Jenny Naidu, School of Education
Dr. Stacey Nofziger, Department of Sociology
Dr. Hillary Nunn, Department of English
Dr. Insun Park, Department of Criminal Justice Studies & Sociology
Dr. Robert L. Peralta, Department of Sociology
Myrissa Powell, MSW, LISW, School of Social Work & Family Sciences
Mark Rittenour, J.D., College of Business
Dr. Lara Roketenetz, Department of Biology
Dr. Christine Schneider, Department of Sociology
Dr. Pamela Schulze, School of Social Work & Family Sciences
Dr. Jennifer Stanley, Department of Psychology
Dr. J. Cherie Strachan, Political Science
Dr. Mary Triece, School of Communication
Arnold Tunstall, Myers School of Art
Dr. Gregory Wilson, Department of History
Dr. Sheldon Wrice, Office of Inclusion & Equity
Dr. Matthew Wyszynski, The Williams Honors College & Department of Modern Languages
Stephanie Yuhas, J.D., Department of Criminal Justice
Dr. Baomei Zhao, CFLE, Department of Social Work & Family Sciences
Dr. Julie Zhao, College of Engineering & Polymer Science
Emerging ACE Scholars
Elizabeth Hall, Department of English
Kim Hufgard, Department of Political Science
Andrew Kramer, Department of Anthropology
Dr. Elena Popa, Department of Anthropology