EXL Center's Experiential Learning Awards
2019-2020 Award Recipients
See details about the award recipients and why they were chosen
—
The Spirit of Experiential Learning Award
Dr. Martha Santos, Juan Contreras, Lenin Guerrero Maldonado, the students in the "Salsa History" unclass, and the students in the "Video Production" class
---
Spirit of EXL Learning Recognitions
• Dr. Lisa Beiswenger and Mr. Andrew Henry
• Dr. Hillary Nunn
• Dr. Heather Braun
• Downtown Akron Partnership
---
Faculty-Community Partnership Award
Dr. Kathy Feltey, Dr. Rebecca Erickson, Dr. Susie Kushner-Benson, Dr. Gary Holliday, Dr. Elisa Gargarella, their class and unclass students, and the teachers and students of the I Promise School, and the UA student group Zips Precious Plastics (ZPP)
---
Student-Community Partnership Award
• Engineering Service Design Team
• Student Athlete Advisory Committee (SAAC)
---
EXL Community Champion
Nicole Mullet, Executive Director of ArtsNow
---
EXL Faculty Champion
• Dr. Julie Cajigas
• Dr. Ruel McKenzie
---
EXL Student Champion
Gavin DeMali, Geosciences
---
EXL Administrative Champion
Dr. Linda Subich, Dean of the College of Arts and Sciences
---
EXL Staff Champion
Mr. Andrew Henry
---
EXL Award for Excellence in Learning-landscape Transformation
Myers School of Art's 2020 graduating graphic design seniors and their art director, Kimberly Wengerd
---
2018-2019 Award Recipients
See details about the award recipients and why they were chosen
—
Administrative Champion
Dr. Maria A. Zanetta

---
Community Champion
CADA - The Center for Applied Drama and Autism (Wendy Duke and Laura Velendza)

---
Faculty-Community Partner
Lost Voices of the Great War Film Partnership (Vic Fleischer, Kevin Kern, Kathleen Endres, Jamie Newhall, and Toivo Motter)

---
Faculty Champions
Dr. Evi Gorogianni and Dr. Mira Mohsini

---
Spirit of Experiential Learning
The Interdisciplinary Symposium (Scott Swiatek and Matt Williamson)

---
Staff Champion
Dr. Jodi Kearns

---
Student Community Partnerships
PCC Airfoils & Zips to Industry; Akron Community Foundation & Zachary Eldred

---
Student Champion
Megan Delong

Spirit of Experiential Learning Award recipients are the faculty, staff, and student team that created the highly successful Interdisciplinary Symposium.
Student-Community Partnership Award recipients Chris Miller, left of the Akron Community Foundation (ACF) and Zachary Eldred, middle UA student intern at On the Table Greater Akron – a program under ACF.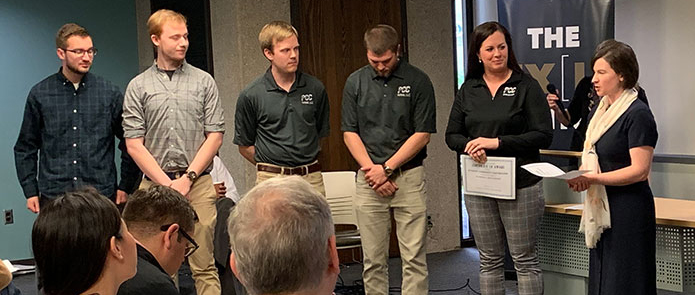 Student-Community Partnership Award recipients UA staff and students from the College of Engineering, Zips to Industry program, and representatives from their community partner, PCC Airfoils.
---
Faculty Fellowship Awardees
2019-20
Dr. Adel Alhalawani

The EXL Center and the Institute for Teaching and Learning (ITL) are pleased to announce that the 2019-2020 EXL/ITL Faculty Fellowship has been awarded to Dr. Adel Alhalawani, assistant professor of engineering instruction in the Department of Biomedical Engineering.

The fellowship emphasizes pedagogical exploration and has two primary goals. First, it supports a faculty member's engagement with the cutting edge of experiential learning within their own discipline. Alhalawani will participate in an instructional skills workshop and undergo facilitator training at the University of Waterloo. The second goal is to facilitate greater interdisciplinary innovation in experiential learning on the UA campus, which Alhalawani will undertake in spring 2020.
2018-19
Dr. Heather Braun

EXL Center's first Faculty Fellow, Dr. Heather Braun will research design thinking methodologies at Stanford University's d.school and develop ways to apply this hands-on, empathy-based approach to collaborative problem-solving in UA classes and internships with local organizations. As a Stanford Affiliate for the 2018-19 academic year, Dr. Braun will acquire resources and build connections with innovative educators around Silicon Valley engaged with the evolving fields that grow from a design thinking foundation. Her goal is to share these current ideas with UA faculty and students, Akron-area organizations and non-profits, and community leaders interested in applying design thinking tactics. Dr. Braun will bring these ideas and connections back to UA in a series of informal interactions and one in-progress presentation across this academic year and will share her work more formally in Fall 2019.

Utilizing her faculty fellowship, Dr. Braun worked with Christine Wyatt, CRP at Upswing, and applied her experience at Stanford University's d.school to create and run a design thinking workshop called "Design for Student Success." Participants used their own and UA students' experiences during and after college to design models to address specific barriers to student success.
---
Faculty-Driven Initiatives Awardees
2017-18
Dr. Shanon Donnelly (Geosciences) has been awarded $7,580 for A Comparison of Current and Historical Vegetation on Sites Mapped by A.B. Williams in the Early 20th Century. Building on recent efforts by the Cleveland Museum of Natural History, this project contributes geo-referenced historical maps and a current inventory of the plants and animals in these areas which will allow a unique assessment of what has and has not changed over the last century in Northeast Ohio.
Dr. Elisa Gargarella (Art) will use $6000 to expand the academic impact of her work. A recipient of Knight Foundation funding for Art Bomb Brigade, Gargarella and the Myers School of Art are now transforming this important contribution to place-making in Akron into an experiential learning course for Spring 2018. The course partners with Community Support Services of Summit County, an organization providing health care to individuals living with mental illness. Gargarella's proposal adds social science data collection and video documentation of this course allowing her and her students to explore this approach to art therapy and consider the impact of such community engagement.
---
Community-engaged Course Grant Recipients
Spring 2018
Dr. Wei Zhang, associate professor of English, teaches Grammatical Structure of Modern English as part of Teaching English as a Second Language certification. Students in the course will participate in a field experience in the Tallmadge City Schools, which will include "push in" instructional support and homework support for 13 ESL students.
Dale Dong, an assistant lecturer in the Myers School of Art, is the instructor of Portrait Lighting 800. He will teach techniques for portrait lighting as applied to fine art portraiture, business portraiture, commercial portraiture and conceptual portraiture and his students will collaborate with the graduating class of Akron Alternative Academy, and actors and dancers at The Akron School for the Arts program at Firestone CLC.
Drew Ippoliti, assistant professor of instruction in the Myers School of Art, will employ community-engaged course funding in his Myers Forum Studio course, subtitled the Modelled City. In collaboration with artists from Nova Scotia and Detroit, along with Dr. Petra Gruber, an associate professor of art and biology here, Ippoliti's students will interview Akron residents and meet with urban planning experts from the city of Akron. The collaboration will lead to the creation of an exhibit that evolves connections between the city and the University.
Dr. Melanie G. McCoskey, an associate professor of accountancy in the College of Business Administration, has created an ongoing program for students in accounting. These students get real-world experience by preparing tax returns for low-income individuals in the Akron community. They prepare federal, state and city tax returns for approximately 1,000 individuals each year in collaboration with United Way, which assists with efiling of federal and state returns.
Christin L. Seher, an assistant professor of practice in the School of Nutrition and Dietetics, will lead Community Nutrition II students in a "Pay It Forward" engagement with Akron-based community agencies. The students will have hands-on opportunities to apply didactic content learned in class, including the basics of community needs assessment, program planning and evaluation, and grant writing.
Fall 2017
Pat Millhoff, whose class Legal Aspects of Corrections will bring UA students and reintegrating offenders together so students can understand family issues and consider constitutional rights as they work with prison administration to create and run a family event with inmates in a women's correctional facility,
Jodi Kearns, whose students in Foundations of Museums and Archives, will learn theory and historical practices before being mentored as they survey collections, develop processing strategies, engage in preservation, and ultimately make the collections they curate publically available online for researchers around the world. This course offers real-world experience and an essential job skill for young professionals seeking to enter the archiving field.