Akron Community Internship Program
Get fluent in the language of Akron!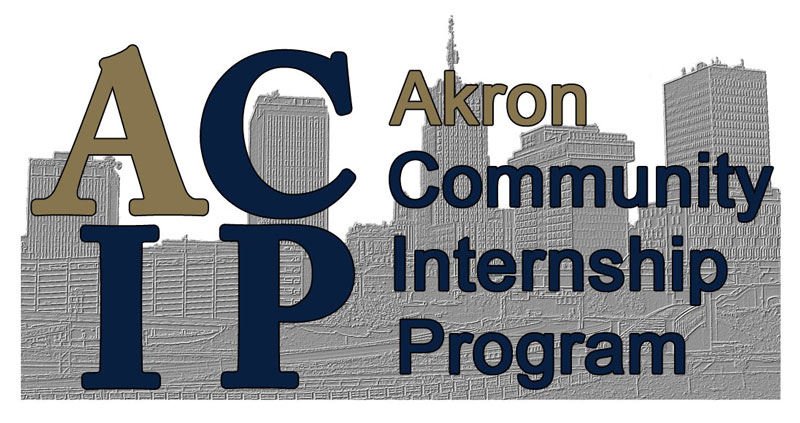 The EX[L] Center's Akron Community Internship Programn at the University of Akron is an initiative where UA students interface directly with community partners. Students gain practical discipline-related experience as well as an appreciation for the broader Akron community. Community partners serve as mentors to students, and receive the benefit of a student working on a project relevant to the respective organization.
Students spend 100 hours and earn $1,000 working on a specific activity with a clear deliverable. Internships are available in the summer or during the school year. The internships may be eligible for credit, depending on your department.
COLLABORATIVE INTERNSHIPS WITH EBAY IN AKRON
2 Daughters Tea Company | Social Media & Content Marketing Intern
Akron Design & Costume | Marketing & Web Intern
CainLabs3D | Product Research Intern
Five Blessings | Graphic Design Intern
Gameday Sportswear | Ecommerce Management & Graphic Design Intern
The Gardener of Bath | Marketing, Web & Product Intern
Gourmet Body Pastries Skincare | Social Media Intern
Oddmall Outpost | Marketing, Web & Product Intern
Peaceful Fruits | Sales & Marketing Intern
Rubber City Vintage Cycle | Marketing, Web & Social Media Intern
Snazzy Little Things | (3) Internships: Branding & Logistics, Sales & Merchandising, Web Design & Copywriter
What A Great Hat! | Social Media & Product Intern
---
Internship Opportunities with Community Partners as of August 2018:
Akron-Canton Regional Food Bank | Community Outreach Intern
Akron Civil Rights Commission | Design, Marketing & Social Media Intern
Alchemy Akron | (2) Internships: Marketing Assistant and Creative Assistant
City of Akron | (4) Internships: Health & Transportation Grant Writer; Health & Housing Security; Health & Food Insecurity Project; and Website Update
ConxusNEO | Database Development
DTVision | Social Media Intern
International Institute of Akron | Immigration Justice Campaign Intern
Ma'Sue Productions | Grants Management Intern
Project Rise | App Developer Intern
Summit Art Space | Project Coordinator Intern
The Well Akron (CDC) | Marketing Intern
Urban Troubadour | Social Media/Marketing Intern
Urban Vision

| After-School Program Intern
World Relief | Youth Intern
YMCA | Child & Family Engagement Specialist
---