Akron Community Internship Program
Get fluent in the language of Akron!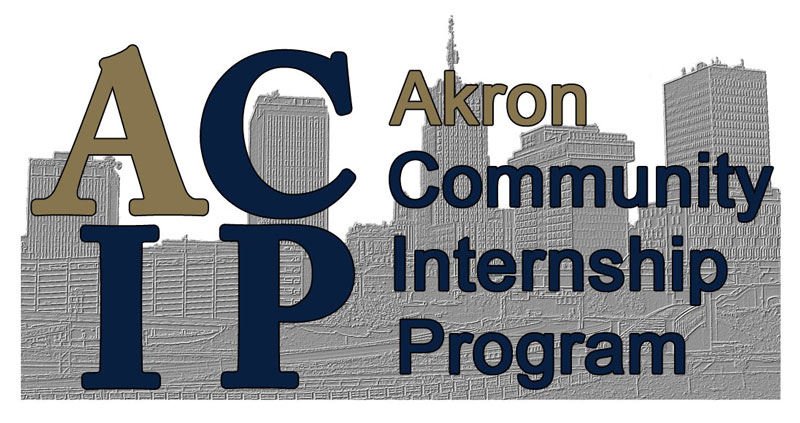 The EX[L] Center's Akron Community Internship Programn at the University of Akron is an initiative where UA students interface directly with community partners. Students gain practical discipline-related experience as well as an appreciation for the broader Akron community. Community partners serve as mentors to students, and receive the benefit of a student working on a project relevant to the respective organization.
Students spend 100 hours and earn $1,000 working on a specific activity with a clear deliverable. Internships are available in the summer or during the school year. The internships may be eligible for credit, depending on your department.
---
---
Intern spotlight
Gabrielle Barnes
Public Relations Major
"Gaby is a curious and driven professional who is eager to learn, has an eye for details, and a bit of a perfectionist streak. She is also super super smart, so we love throwing crazy new things her way. She is steadfast and trustworthy." Mac Love, Chief Catalyst of Art X Love
H.L. Comeriato
English Major
"H.L. is fantastic and we worked together for years. Every class she took with me she would write about these issues. So when the internship with GCEF (Gay Community Endowment Fund) opened up, it was perfect."Heather Braun, UA professor

H.L. Comeriato (pictured on right) paired up with The Devil Strip photographer Shane Wynn (pictured on left) for #TransAkron that shares personal stories about the subjects alongside their photographs and statistics about transgender people. It also teaches people how to respectfully interact with the transgender and non-binary community.
Alex Gingrich
J.D./MBA
The Community Internship through the EXL Center, where I worked with Vlipsy for 10 weeks was even more beneficial than I initially thought it would be. The CEO of Vlipsy asked me early in the internship if there were any additional kind of projects I would be interested in. I expressed my interest in video editing and animation, soon after I was working on video projects with critiques from the team to better my abilities. One video I did the vast majority of work on is going to be posted by Skype's social media team to show the Vlipsy and Skype integration.
Malik Hudson
Communication & Media Studies Major
"Malik is currently helping us transform Perkins Woods Pool. My hope is to get him behind the camera to help us tell these stories." Mac Love, Chief Catalyst of Art X Love
Chance Jones and Kayla Madigan
Dietetics/Food Science Major
Interns will gain a better understanding of the need that exists in Northeast Ohio, building relationships with community partners and Foodbank donors to help further the mission of the Foodbank. Chance and Kayla will be working in NPP for the next 10 weeks to help individuals apply for SNAP at partner programs and community events. As a dietetics/food science major, Kayla will also create monthly nutrition pieces for clients served through the Commodity Supplemental Food Program.
Kendra Taylor
Nutrion and Dietetics Major
Through the Akron Community Internship Program, I have had the opportunity to work with two amazing community organizations in Akron. The first organization, Project Ujima, hosts weekly pregnancy and parenting circles for Akron women to help lower the rates of infant mortality in Summit County. I am collaborating with them to improve their nutrition education through handouts, cooking demos, and grocery store tours. The second community organization, CAFFI, works to help low income Summit County residents have access to free gluten0free and allergy friendly foods. I am assisting them with coordinating a stronger relationship with area food banks with the goal of increasing referrals to CAFFI's food bank and promoting awareness of the seriousness and costs of food allergies.
Melissa Tippin
Arts Administration Graduate Student
I cannot express how grateful I am for all of the awesome experiences I've had at Weathervane so far. Doing things such as planning events, developing curriculum, updating spreadsheets and checking students in before their classes, have armed me with the knowledge and confidence I'll need to succeed in the arts administration field. All of the staff at Weathervane have been so warm, welcoming and patient as I learn about the day-to-day operations and tasks.

Melissa Tippin also starred as Cinderella in Weathervane Playhouse's production of Into The Woods.