EXL Unclasses
An unclass is intended to give you experimental opportunities in a 3-credit course (unless noted otherwise), that's open to all students, interdisciplinary, problem-centered and hands-on! Small class sizes allow you to play a significant role in how the course is structured and unfolds.
The particulars:
An unclass may be substituted for an Honors Colloquium (one time only)
An unclasses may satisfy the Complex Systems Gen-Ed requirement, (ask the professor of record)
Enroll under the course number listed
To seek independent study (IS) or other pathways to credit in another department contact Dr. Behrman
If the course number has a pre-req or is a controlled section, contact the professor of record to arrange enrollment
Jump to:
Upcoming Fall 2019 courses
Artful Akron
3300:489/589
M W 2:45 - 4 p.m.
Dr. Hillary Nunn (English)
Capitalizing on current revitalization projects on Main Street, this unclass explores Akron's arts scene as it unfolded in the past and as it exists today. You will explore archives and physical spaces downtown, creating on-site displays about Akron's past and present as well as a mobile-friendly website. Class members will use what they learn to expose the layered history of Akron's artistic and cultural scene.
Salsa: History In Motion unclass
3400:373 Special Topics in History
M W 2:45 - 4 p.m.
7600:372 Video Production
M W 5:45 - 7 p.m.
7900:111 World Dance (1 credit - starts 10/25/19 - 2nd 8-week session)
F 1 - 2:30 p.m.
Dr. Martha Santos (History), Lenin A. Guerrero Maldonado (Professional Salsa Dancer and Director of Salcity of Angels Dance Company, Cleveland), Juan E. Contreras (School of Communication)
Salsa, an energetic, rich, and vibrant music and dance of Latin American origins, also has strong ties to long histories of globalization, enslavement, resistance, and cultural creation in Latin America and with immigration processes and cultural identities in the United States. This unclass makes the embodied practice of salsa dancing a central component of the learning experience. Students will contribute to breaking the bounds of traditional academic, field-centered, teaching and learning approaches by analyzing, reading, writing, and experiencing the history, aesthetics, and movement of salsa dancing. Students and faculty will also develop a creative language to reflect on their personal and group discovery of the history and motion of salsa.
Design Your Career unclass
3300:489-003
T 3 - 5:30 p.m.
Dr. Heather Braun (English) and Akron Public Schools
Working with tools and concepts from Stanford's Hasso Plattner Institute of Design, this unclass helps students tap into skills and activities that motivate and engage them, an important step toward developing stronger direction and purpose. UA students will learn to embrace ambiguity and a bias toward action as they build collaborative models for personal and professional efficacy. Students will conduct interviews with APS students and Akron-area professionals from a variety of disciplines about their career choices. Using their research, they will co-design workshop prototypes for high school seniors. After selecting and testing the best prototypes, UA mentors will facilitate their own design thinking workshop for APS students, helping them discover the activities that inspire them to work, lead, and express themselves. Near the end of the course, UA mentors will introduce APS seniors to the college and job application process and share their experiences with various majors and internships. Giving students a shared set of tools they can use to navigate from high school through college is likely to increase student retention and success after graduation.
A Lens on Eugenics in Akron: Documentary Filmmaking unclass
(course's official title Introduction to Anthropological Data)
3230:398-001
M W 10:15 - 11:30 a.m.
Joshua Gippin (Documentary Filmmaker, Joshua Tree Productions), Dr. Tim Matney (Anthropology), and Dr. Carolyn Behrman (Anthropology/EXL)
This is a two-part series of unclasses on documentary/ethnographic filmmaking.
Fall 2019 and Spring 2020, Gippin will lead two unclasses producing a full documentary film exploring eugenics in America and using materials on the former Summit County Infirmary and Schneider Park's unmarked graves. In Fall 2019, students will learn documentary film production as they gather social science data and apply their critical thinking skills to shape the contents of the documentary. Gippin will lead students through the production process with the unclass forming a production crew prepping and filming various interviews and b-roll using equipment provided by School of Communication and/or Gippin's company, Joshua Tree Productions. The Spring 2020 course will be based in the School of Communication and will help students hone post-production and marketing skills as the documentary moves toward completion. Like all unclasses, this is open to interested students from any field.
Crossing Borders/Creating Community unclass
3850:365-001
M W 2:45 - 4 p.m.
Dr. Robert L. Peralta (Sociology) and Nicole Kille (The Center for International Students and Scholars)
Do you like meeting students from different backgrounds and cultures? Do you want to build and flex your leadership skills? Do you want to play a lasting and collaborative role in improving the university community by bringing together international and native students? The Crossing Borders Unclass uses a team-based, problem-centered format to 1) explore the borders separating students and dividing the campus from the community, 2) engineer ways to overcome those borders, and 3) present findings to members of the university community. This class will provide students with research skills and report writing, presentation, critical thinking, personal/interpersonal development, and reflexive practice experience. Finally, research tells us that engaging with people from different cultures helps individuals reduce their implicit biases, fosters compassion and empathy, and contributes to the building of stronger communities, which is the overall goal of the course!
---
Spring 2019 courses
---
Exploring Land Ethic unclass
3350:489/589
F 10:15 a.m. - 12:45 p.m.
Course will meet at Martin Center for Field Studies and Environmental Education 4240 Ira Rd.
Dr. Shanon Donnelly (Geosciences) and Dr. Lara Roketenetz (Biology, UA Field Station) with support from community partners
This unclass will explore the concept of a land ethic, paying particular attention to the landscapes of the University of Akron's Field Station properties, including Bath Nature Preserve and Panzner Wetlands Wildlife Reserve. A variety of perspectives from the sciences and humanities will be employed to dig into these two particular places in the context of Aldo Leopold's Land Ethic, while requiring students to develop their own philosophy regarding land use and conservation. Students will learn to use methods from biology and geography to better understand communities and will develop facilitation skills that will be used to lead a community conversation at the end of the semester.
Solving BIG (Business, Industrial, and Government) Mathematical Problems unclass
3450:489
T TH 1:15 - 2:30 p.m.
Dr. Malena Espanol (Math), with support from Dr. Shanon Donnelly (Geosciences), and community partners
In this unclass students will work in interdisciplinary teams to translate questions sourced from BIG partners into mathematical problems. Students will interact closely with BIG partners, learn about the context of the questions, present their research finding to them, make recommendations as applicable, and submit a final research report summarizing their work. This unclass challenges students to apply knowledge and hone skills necessary to succeed in a career in BIG.
Migrating Home unclass
3230:472-001
M W 11:45 a.m. - 1 p.m.
Dr. Evi Gorogianni with support from Dr. Mohsini (Anthropology) and faulty from History, Sociology, Law, and International Institute of Akron.
This unclass focuses on the concepts of home and homemaking, along with the material complexities of human migration. Home is where the heart is, so it is said. However, beyond our loved ones, 'stuff' plays an integral role in the feeling of comfort we commonly associate with home. But, what happens when one has to move? How does one recreate home especially when circumstances do not allow for one's things to follow along? How does one choose what to bring with them to make them feel at home in a new environment? How is who we are and how we represent ourselves in a new place tied to and expressed through material culture?
Students will also take up questions of the materiality of migration, the relationships that develop between humans and objects through experiences of migration. We will explore histories of local migrant groups and establish relationships with community partners from the resettling refugee and immigrant communities, as well as from the community of international students at the University of Akron.
Course-based projects will seek to help the greater Akron community better understand the lived experiences of migrants and the everyday consequences of migration.
I Promise: A Community Service-Learning Think Tank unclass
5500: 480
TH 2:30 - 5 p.m.
Course will meet at the I Promise School.
Dr. Gary Holliday (Education), Dr. Rebecca Erickson and Dr. Kathy Feltey (Sociology), I Promise School faculty, students, and other partners
This unclass focuses on a challenge in programming at the I Promise School (IPS) in Akron – to create a strong and sustainable service-learning initiative for elementary school children and their families that aligns with the mission and goals underpinning the School. An interdisciplinary team of UA students and faculty will engage with IPS students and teachers and community partners. They will employ relevant social science research tools to assess needs and frame viable programming to offer the I Promise School leadership for possible implementation in 2019-2020.
#metoo: Analysis, Action, and Power in Social (Media) Justice unclass
3300:489/589:004
T TH 11:45 a.m. - 1 p.m.
Dr. Amanda Booher (English), with support from Dr. Mary Triece (Communication), Tracy Thomas (Law), and community partners
In October 2017, the #metoo movement ignited on social media, with charges initially leveled against Hollywood executives, but spreading quickly to encompass countless arenas, including politics and academia. This course will examine and respond to #metoo, and the underlying issues of power, along with the motivating problems of sexual harassment, sexual aggression, and sexual assault.
The first part of the course will explore the exigence, definition, and a/effects of the #metoo movement. We will use various lenses and theories, including rhetoric, gender studies/intersectionality, philosophy, law, and social media. We will do this through readings, discussion, and engagement with academic and community partners who can bring other experiential perspectives to the conversation.
For the second part of the course, students will determine individual or group projects. Students will learn not only techniques for analysis of social justice problems, but techniques for responding to and making concrete (if incremental) changes in these problems.
Restoration Ecology unclass
3100:495/695
M 1:15 - 5 p.m. (lab)
W 1:15 - 2:30 p.m.
Dr. Randy Mitchell (Biology) and community collaborators
The Cuyahoga Valley is an important touchstone in the national discussion of how damaged ecosystems can be restored. With Akron in the center of that valley, it is only fitting that UA students should participate actively in this topic. In this unclass an interdisciplinary team of students from Biology, Geology, Environmental Sciences, and related disciplines will work with academics and restoration professionals. Along with classroom learning, these students will be working hands-on to both monitor and maintain existing urban restorations (Haley's Run), and to plan and evaluate new restoration (Adam's Run).
Big Data in Sports unclass
5550:480
T 4:15 - 6:45 p.m.
Dr. Matthew Juravich (Sport Studies), faculty member(s) from Economics (TBD), the Cleveland Cavaliers, and (hopefully) the Cleveland Indians
The use of analytics by sport organizations provides an opportunity for teams to distinguish themselves from their competition. As such, the extent to which organizations analyze and utilize data in unique ways can create competitive advantage. But questions arise regarding how much weight the numbers (data) carry in informing the decision making process. This unclass will introduce students to the use of big data in professional sport organizations to inform decision-making. Students, faculty and industry partners will use the semester to explore core methods and issues, and to develop a proposal for a degree track in this evolving field.
Environmental Security: Community Renewable Energy in Akron unclass
3700:417/3700:592
TH 4:15 - 6:45 p.m.
Terry O'Sullivan (Political Science and Center for Emergency Management and Homeland Security); Engineers for Sustainability student org. (Josh Loveland, president); community partners Akron Solar Project (Tom Ghinder, coordinator), The Sustainer project (Steve Lederer, Knight Foundation funded), Dom Bruno, UA Electrical Engineering graduate
Students are expressing growing interest in renewable energy (solar, wind, etc.) generally, as well as in analyzing the technical, geographic (including urban planning), political, and social opportunities and challenges for feasibly promoting renewables such as solar power in Akron. This course would challenge students to find ways to evaluate the potential that such power sources could bring down utility costs and be available to facilitate resilient disaster responses. (A major power outage like that experienced by the region more than a decade ago will offer potential data.) Through engagement with active energy experts in the community, students will develop or join projects that test their emerging ideas.
Digital Humanities in the Archives unclass
3300:489/589
TH 1:15 - 3:45 p.m.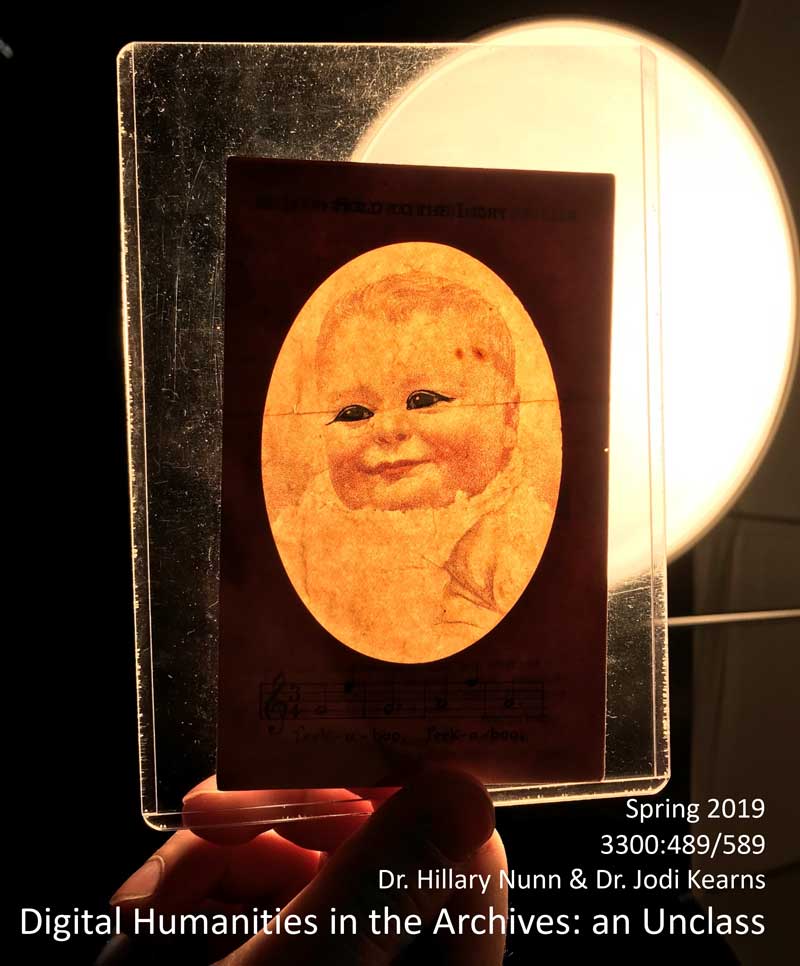 Students in this unclass will work with the immense, underused postcard collections at the Cummings Center for the History of Psychology (CCHP) at UA. Choosing a subset from the wide-ranging collection to reflect their interests, students can interpret these materials through a variety of disciplinary lenses, tracking their work through blog posts and research reports. Students will also guide the production of the UA academic journal, Student Projects in the Archives (SPA). Working in teams, class members will help make CCHP postcards more searchable while also shaping the ways that future users approach the collection.
RELATED: See past unclasses