Installing Printer Drivers
1. Download the Pharos Popup app for MacOS: https://pharos.com/uniprint/mac-updates/
2. Open Popup.dmg from the download and install the Popup package

Adding Pharos Printers to Mac OSX
1. Make sure you've downloaded and installed the Pharos Popup app (See above)
3. Go to System Preferences -> Printers & Scanners
4. Click on the '+' below the list of installed printers
5. Right click on the Add toolbar and select "Customize Toolbar..."

6. Drag the "Advanced" icon to the Toolbar and select "Done"
7. Click on "Advanced"
8. Choose the options and URL as follows: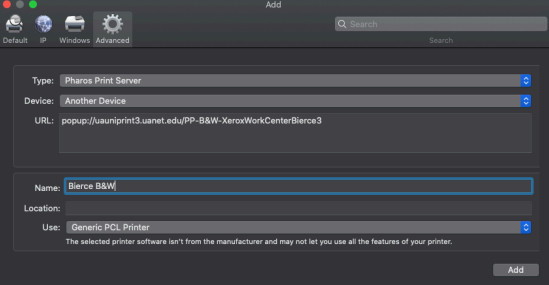 9. Select "Add"
10. To add the color printer, repeat the same process but with the URL: popup://uauniprint3.uanet.edu/PP-Color-HPCP4525nBierceLibrary
11. If you would like any assistance, please feel free to contact the Help Desk at (330) 972-6888.