The Institute for Human Science and Culture
The Institute for Human Science and Culture (IHSC) is a hands-on humanities center on the corner of campus and community.

The mission of the IHSC is to promote the exploration and appreciation of the widespread human experience, both local and global, through the activation of museum collections. The IHSC enriches The University of Akron student experience with arts and culture activities, speakers, exhibitions, and programs, facilitating engagement and connections among UA departments to discover new and creative ways to nurture learning. We connect UA and Akron communities to learn from each other through arts and culture, expertise and experience, and hands-on teaching and learning.

In addition to collections storage facilities and classrooms, the IHSC is home to the Oak Native American Gallery and Lynn Rodeman Metzger Galleries, as well as a library containing the David P. Campbell Postcard Collection, open to the public.

Learn more about our Mission, Vision, and Values.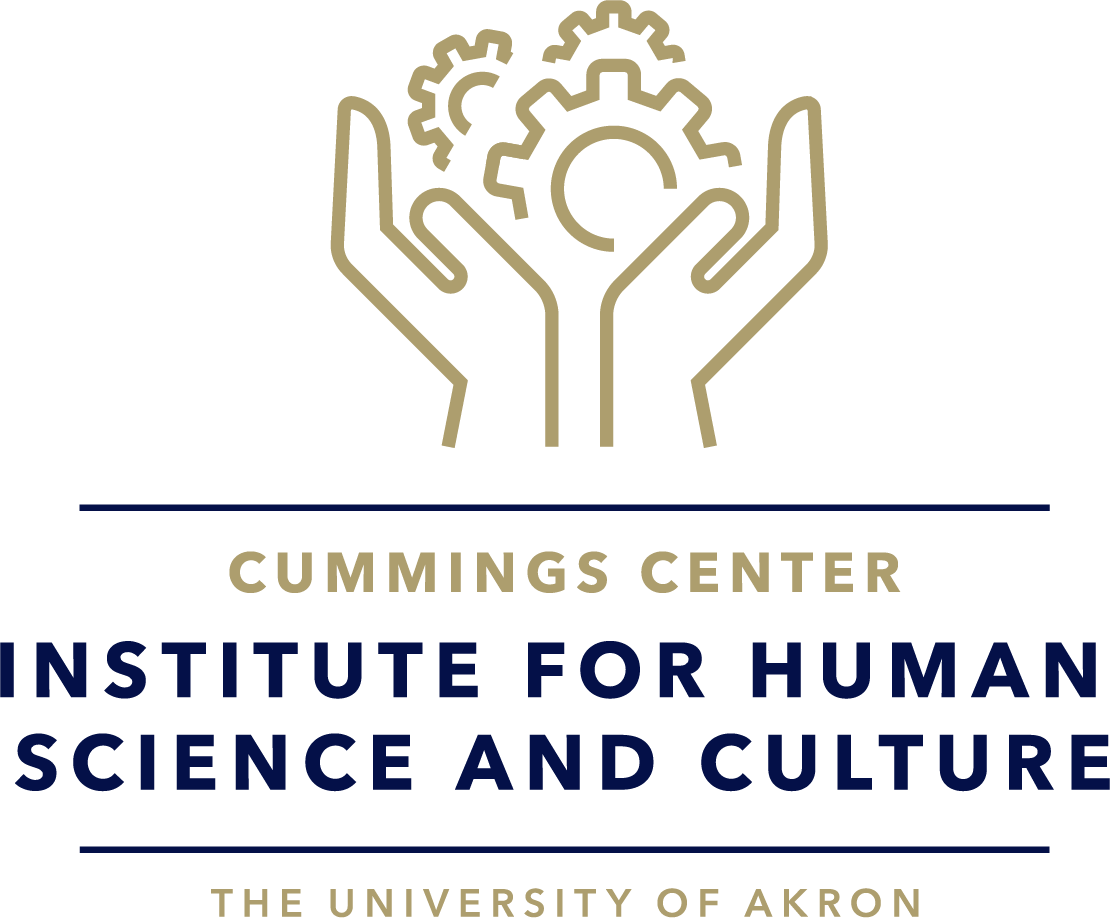 Plan your visit!
The Institute for Human Science and Culture is located on the 3rd and 4th Floors of the Cummings Center. An interior elevator in the Cummings Center lobby provides access to the Institute galleries. Food and drinks, including water bottles, are not permitted in the galleries. Backpacks and large bags must be left with the reception desk.
Gallery Hours
Please note that the Cummings Center, including the Institute galleries, will be closed to the public Saturday, December 23 through Monday, January 8. We will return to our regular hours on January 9.
Tuesday, Thursday, Friday and Saturday:

11:00 am - 4:00 pm
Wednesday:

1:00 pm - 8:00 pm
Sunday and Monday:

Closed
Please note that the Institute closes for all major holidays.
Admission
(includes entry to the Cummings Center's National Museum of Psychology)
$10 - Adults
$5 - College ID & Children (under 18)
$20 - Family
$5/person - Groups of 10+
$3/person - Museums for All program (click for details)
Free - University of Akron students, staff, & faculty (with valid ID)
Free - with a military ID card or veteran ID card
Contact

Institute phone: 330-972-7952
Email: ihsc@uakron.edu
Address
Cummings Center | 3rd and 4th Floors
73 S. College Street, Akron, Ohio 44325-4302
Building Map
Want to see more? Access a map of the museum and galleries.
Group Visits
The Institute for Human Science and Culture welcomes groups and classes. The galleries are self-guided, but please contact us to schedule a group visit.
Parking
Free parking is available in the lot adjacent to the building. Visitors can also park in Lot 30 at the corner of College and Market streets. Metered parking is available along South College Street.
Health & Safety
Hand sanitizer stations are placed throughout the museum and galleries, and visitors are encouraged to sanitize their hands regularly. Social distancing is encouraged between groups. Visitors are not required to wear masks in the museum and galleries, but may choose to do so. If you are feeling sick, we ask that you consider staying home or wearing a mask within the museum and galleries.
Accessibility
A wheelchair accessible ramp is located on the northeast side of the building, near the main entrance. An interior elevator provides access to the Institute galleries, located on the fourth floor. A wheelchair is also kept on-site and is available for loan to those visiting the museum and archives.
For more information, see our accessibility page.
In the media
Social Media