Dr. Li Jia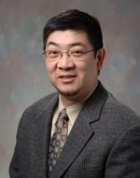 ---
Biography
Dr. Jia is a Professor in the School of Polymer Science and Polymer Engineering at The University of Akron. His research group focuses on synthesis of novel polymer materials. Prior to joining the university, he was an industrial researcher at Rohm and Haas Electronic Materials and an Assistant Professor at Lehigh University. He obtained his Ph.D. from Northwestern University, and his B.Sc. from Lanzhou University in China.
Honors
NSF CAREER Award
DuPont Young Professor Award
Lindback Minority Junior Faculty Award
Professional Affiliations
American Chemical Society
---
Research
Metal-catalyzed polymerization, rubber chemistry and reinforcement, polyimides, and polymer sustainability
Publications
Dai, Y.; Lou, J.; Liu, T.; Jia, L.* "Dual-Site Catalysis for Sustainable Polymers to Replace Current Commodity Polymers – Carbonylative Copolymerization of Ethylene, Ethylene Oxide, and Tetrahydrofuran", Chem. Commun. 2020, 56, 15341-15344.
Sun, Y.; Yan, X.; Liang, H.; Böhm, G.; Jia, L.* "Rubber Recycling: Mending the Interface between Ground Rubber Particles and Virgin Rubber", ACS Appl. Mater. Interfaces 2020, 12, 47957–47965.
Sun, Y.; Fan, C.; Wei, B.; Wesdemiotis, C.; Jia, L.* "Activated Isobutylene-Isoprene Rubber Synthesis, Peroxide Cure, and Mechanical Properties", ACS Appl. Polym. Mater. 2020, 2, 5163–5172.
Tan, X.; Zhao, Y.; Qian, M.; Hamed, G. R.; Jia, L.* "Reinforcement of Rubber Using Reactive Oligo(b-alanine) Supramolecular Fillers", RUBBER CHEM. TECHNOL. 2019, 92, 198-217.
Dai, Y.; He, S.; Peng, B.; Crandall, L. A.; Schrage, B. R.; Ziegler, C. J.; Jia, L.*Zwitterionic Design Principle of Ni(II) Catalysts for Carbonylative Polymerization of Cyclic Ethers," Angew Chem., Int. Ed. 2018, 130, 14111-14115.
Zhao, Y.; Fu, L.; Jia, L.*"Synthesis, characterization, and mechanical and dynamic mechanical studies of β-alanine trimer-grafted SBR", Polymer 2018, 136, 62-70.
Yan, X.; Hamed, G. R.;* Jia, L.* "Urushiol-derived non-silane coupling agent", Polymer 2017, 125, 172-181.
Le Floch, P; Yao, X.; Liu, Q.; Wang, Z.; Nian, G.; Sun, Y.; Jia, L.; Suo, Z.* "Wearable and washable conductors for active textiles", ACS Appl. Mater. Interfaces 2017, 9, 25542-25552.
Tan, X.; Zhao, Y.; Shang, M.; Hamed, G. R.;* Jia, L.* "Supramolecular Reinforcement of Styrene-Butadiene Rubber Composites", Polymer 2017, 122, 242-248.
Jia, X.; Zhang, M.; Li, M.; Pan, F.; Ding, K.; Jia, L.;* Crandall, L. A.; Engle, J. T.; Ziegler, C. J.* "Zwitterionic Nickel(II) Catalysts for CO-Ethylene Alternating Copolymerization", Organometallics 2017, 36, 1122-1132.
---
Education
1996 Ph.D., Chemistry, Northwestern University
1991 B.Sc., Lanzhou University
---