Dr. Steven S.C. Chuang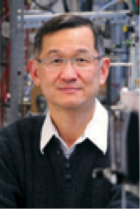 Title: Professor, SPSPE; Adjunct Faculty, CBCE
Dept/Program: School of Polymer Science and Polymer Engineering
Office: GDYR 826
Phone: 330-972-6993
Fax: 330-972-5290
Email: schuang@uakron.edu
Website: https://schuang.uakron.edu

---
Biography
Dr. Steven S. C. Chuang obtained his Ph.D. in Chemical Engineering from University of Pittsburgh in 1985, started as an assistant professor of Chemical Eng. at The University of Akron in 1986, served as Chair of Chemical and Biomolecular Engineering in 1997-2005, and joined Polymer Science in 2011.
In 2009, he established the FirstEnergy Advanced Energy Research Center, focusing on the development of CO2 capture and carbon fuel cell technologies. He received a number of awards at The University of Akron: 1996 Outstanding Researcher Award of the College of Engineering; 1998 Chemstress Outstanding Teacher Award of the College of Engineering; 1998 Louis A. Hill Award for the outstanding achievement; 2007 Outstanding Researcher Award of the College of Engineering; and 2008 The University of Akron Outstanding Researcher Award. He was selected for 2006 Distinguished Alumni Award, Taipei Tech. (the predecessor of National Taipei University of Technology), Taipei, Taiwan.
---
Research
The Chuang research group has centered around the fundamental issues of clean energy generation and storage. Professor Chuang studies the synthesis and fabrication of polymeric and hybrid composite materials for CO2 capture, proton-exchange membrane/solid oxide fuel cells, and photo/electrochemical processes for utilization of solar energy. His research employs vibrational spectroscopy to investigate the mechanism of material synthesis, CO2 capture process, and reaction steps related to fuel cell and photo/electrochemical processes. The objectives of his research program are (i) developing an in-depth understanding of the synthesis and reaction mechanisms (ii) using mechanistic information to guide material synthesis and process development, and (iii) scaling up. His recent research themes include interfacial crosslinking reactions, polymeric membrane synthesis and fabrication for Li/Mg-metal battery, CO2 capture, CO2-responsive polymers, and photo/electrochemical processes on polymer/TiO2 hybrid catalysts.
Publications
Google Scholar | ResearchGate | Ohio Innovation Exchange
---
Education
Ph.D., Chemical Engineering, University of Pittsburgh, 1985
M.S., Chemical Engineering, New Jersey Institute of Technology, 1982
Diploma, Chemical Engineering [5yr. program], Taipei Inst. of Tech., 1977
---