Dr. Yu Zhu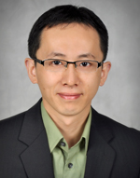 Title: Associate Professor
Dept/Program: School of Polymer Science and Polymer Engineering
Office: GDYR 817
Phone: 330-972-5945
Fax: 330-972-5290
Email: yzhu@uakron.edu
Website: https://nano.uakron.edu/

---
Biography
Dr. Yu Zhu obtained his Ph.D. in Physical Chemistry at the University of Cologne, Germany in 2007. After his post-doctoral training in Professor James Tour's lab at Rice University, Dr. Zhu joined the Department of Polymer Science at The University of Akron as an Assistant Professor in 2012. Dr Zhu's research areas comprise synthesis and assembly of carbon nanomaterials and polymers; the use of those novel materials in energy storage devices, nano-electronics and organic electronics.
---
Research
One of our research interests is controlled synthesis and assembly of nanomaterials for various applications. Many low dimensional materials, such as graphene and carbon nanotubes (CNT) exhibit exceptional high carrier mobility, high electrical and thermal conductivity and large specific surface area. By controlling synthesis and assembly, those exotic properties are able to be extended to macro-scale, which is important for applications like solar cells, supercapacitors and lithium ion batteries. We are also interested in the synthesis of conjugated polymer, which is another type of semi-conductive materials suitable for flexible electronics. We focus on the patterning of conjugated polymers in nano-scale for organic electronics.
Current research projects:
Synthesis of low-dimensional materials for energy storage/conversion applications;
Graphene and carbon nanotubes for nanoelectronics;
Patterning conjugated polymer for organic electronics;
Carbon nanomaterial/polymer composites.
Publications
Google Scholar | Ohio Innovation Exchange
---
Education
Ph.D., Physical Chemistry, University of Cologne, Germany (2003-2007)
Post-doctoral research associate, Rice University (2008-2012)
Assistant Professor, The University of Akron (2012)
---