2008 Distinguished Alumni Award
Andrew Guenthner, Ph.D. 2000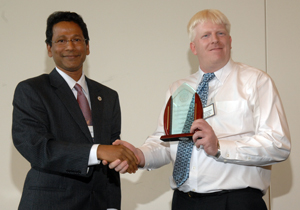 Dr. Andrew Guenthner leads the Polymer Science and Engineering branch in the Research Department at the Naval Air Warfare Center, Weapons Division in China Lake, CA. The branch performs basic and applied research and supports technology demonstration and validation involving polymer materials for the Naval Air Systems Command. Ongoing research programs led by principal investigators within the branch focus on the development of polymer composite resin materials for airframes and other Navy platforms, polymer membranes for batteries, fuel cells, and supercapacitors, polymer films for passive and active optical sensing and networking devices, environmentally benign polymer coatings for corrosion protection, multi-functional structural materials, and polymer materials and analysis methods for energetic materials systems. Guenthner served as a Materials Engineer at the Naval Air Warfare Center for five years before becoming head of the Polymer Science and Engineering branch in 2005.
He has published over 20 peer-reviewed journal articles and book chapters, in addition to over 35 conference papers and proceedings articles, on both theoretical and experimental aspects of polymer science. In 2005, Guenthner received an Excellence in Research Award in recognition of his expertise in polymer processing and characterization and his clear ability to apply that expertise to difficult problems. In 2007, he received the Michelson Laboratory Award for his outstanding technical contributions in service to the warfighter.
The majority of Dr. Guenthner's recent research activities involve the development of new composite resin materials based on bis(cyanate ester)s and polyphenylene oligomers that feature low moisture absorption and outstanding short-term resistance to fire and high temperatures. Additional research activities include the fabrication of structural materials with adaptive multi-functionality, development of high-activity electro-optical polymers for integrated optics, investigations of low-volatility substitutes for styrene in composite repair applications, and formulation of thermosetting materials incorporating nanoparticles that actively prevent erosion by atomic oxygen in low Earth orbit. Several of the aforementioned space-survivable formulations are currently being tested aboard the International Space Station, and a news story describing their development is scheduled to appear in an upcoming edition of the Rocketeer newspaper.
Guenthner is a member of the American Chemical Society and SPIE (the International Society of Optical Engineering). He serves as a volunteer for the Bureau of Land Management, helping to restore and maintain historical sites on public lands in the vicinity of his home in Ridgecrest, California.