Home | People | Research | Publications | Teach | Lab Facilities | Funding | Outreach | Links
People
Principal Investigator: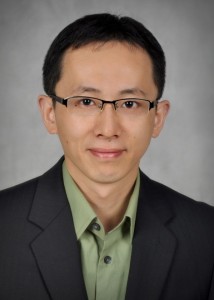 Dr. Yu Zhu
Office: GDYR 817
E-mail: yzhu@uakron.edu
Phone: (330) 972-5945
Fax: (330) 972-5290
Department of Polymer Science
The University of Akron
Akron, Ohio 44325-3909
Dr. Yu Zhu is a synthetic chemist specialized on nanomaterials and organic electronic materials. He received his PhD from the University of Cologne in Germany in 2007, where he worked on diketopyrrolopyrrole and other pigment core based conjugated polymer synthesis. From 2008 to 2012, Dr. Zhu joined Professor James M. Tour's group at Rice University as a postdoctoral research associate, where his research included synthesis and application of graphene, carbon nanotube and other low-dimensional nanomaterials. He became an assistant professor at the University of Akron from August 2012, and was promoted to associate professor in 2018 and full professor in 2021. Dr. Zhu has published over thirty peer reviewed articles, two invited reviews and four patents.
Current Group Members:
Postdoc fellows
Ph.D Students
Yun-Yu Lai

Contact Information:
yl125@zips.uakron.edu

Hometown:
Hsinchu, Taiwan

Education:
B.S. in Applied Chemistry 2012
National Chiao Tung University
M.S. in Applied Chemistry 2014
National Chiao Tung University

Research Interest:
Synthesize organic electronics material for battery application.

Yueh-Ting Lai

Contact Information:
yl139@zips.uakron.edu

Hometown:
Kaohsiung, Taiwan

Education:
B.S. in Chemical and Materials Engineering 2012
Tunghai University
M.S. in Chemical Engineering 2014
National Taiwan University

Research Interest:
Lithium-ion battery; solid electrolyte design; 3D printing

Raymond Lopez-Hallman

Contact Information:
rjl77@zips.uakron.edu

Hometown:
Humacao, Puerto Rico

Education:
B.S. in Physics Applied to Electronics 2015
University Of Puerto Rico in Humacao
M.S. in Material Science & Engineering 2017
The Pennsylvania State University

Research Interest:
Dual-Salt Polymer Electrolyte by 3D Printing

Wei Xie


Contact Information:
wx11@uakron.edu

Hometown:
Jiangxi, China

Education:
B.E. in Polymer Science and Engineering 2020
Sichuan University
M.S. in Polymer Science 2021
The University of Akron

Research Interest:
Synthesis of conjugated polymer

Shuyuan Zhang

Contact Information:
sz62@zips.uakron.edu

Hometown:
Shanxi, China

Education:
B.S. in Polymer science and engineer, 2020
Sichuan University

Research Interest:
Battery

Run Yang

Contact Information:
ry23@zips.uakron.edu

Hometown:
Shandong, China

Education:
B.S. in Polymer materials and technology, 2020
Qingdao University of Science and Technology

Research Interest:
Battery
Visiting Ph.D Students
Master's Students
Yifang Ding



Contact Information:
yd35@uakron.edu

Hometown:
Beijing, China

Education:
B.E. in Polymer Science and Engineering 2020
Sichuan University

Research Interest:
Battery