Wilson named president
Three months after appointing him interim president, The University of Akron Board of Trustees dropped the "interim" from his title and named Matthew J. Wilson president on October 19, 2016.
"In the months since his appointment, he has brought new energy and enthusiasm to all corners of the campus and community," said Board Chairman Roland H. Bauer. "We believe now is the time to ensure stability by removing the "interim" from Matt Wilson's title and see that he remains President of The University of Akron."
The Board also extended his term of office to June 30, 2019.
Priorities and purpose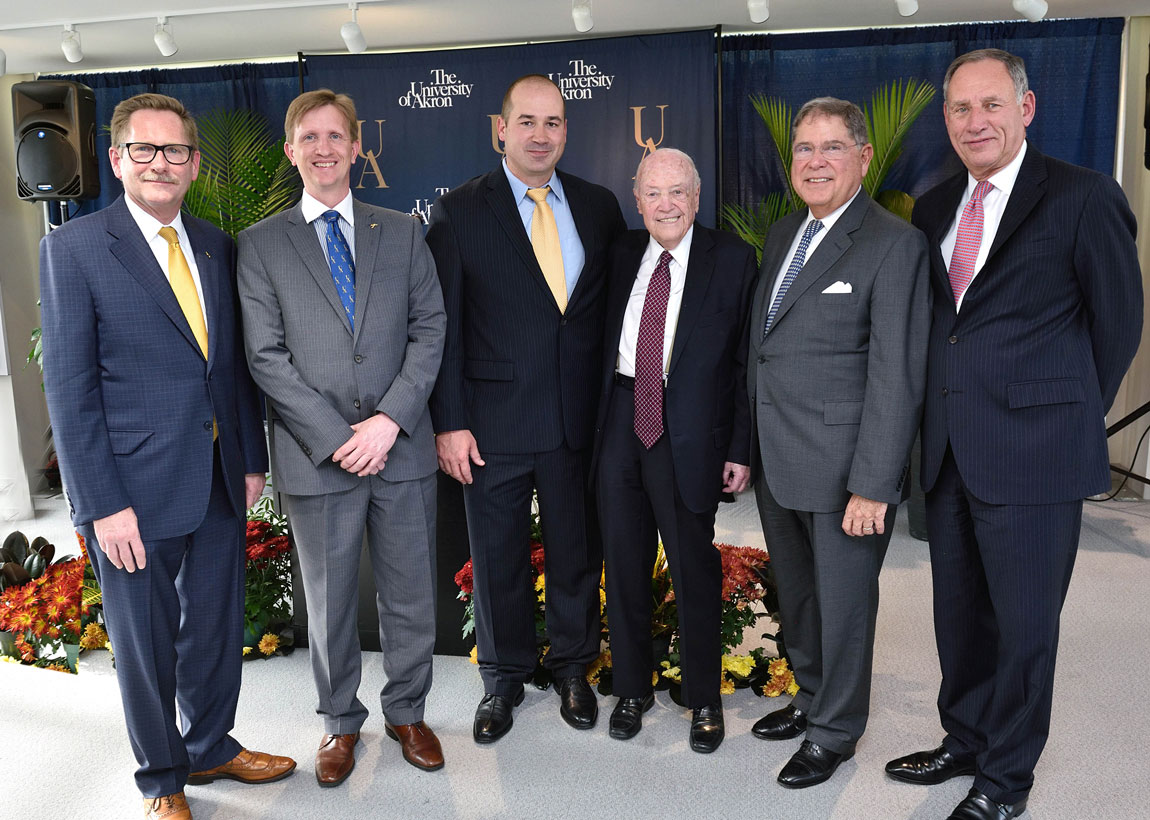 At the Nov. 1 announcement about the endowment are, from left: Eric Amis, Ph.D., dean of the College of Polymer Science and Polymer Engineering and vice provost for research; Matthew J. Wilson, president of The University of Akron; Matthew Becker, Ph.D., the first holder of the W. Gerald Austen Endowed Chair in Polymer Science and Polymer Engineering; Dr. W. Gerald Austen, cardiac and thoracic surgeon, and former trustee of the John S. and James L. Knight Foundation; Alberto Ibargüen, president of the Knight Foundation; and Dr. Delos "Toby" Cosgrove, president and chief executive at the Cleveland Clinic.
Record gift creates Austen chair in polymers
The John S. and James L. Knight Foundation funded a $3 million endowment to create the W. Gerald Austen Endowed Chair in Polymer Science and Polymer Engineering. Dr. Matt Becker, an outstanding young researcher and educator, is an excellent choice as the first holder of UA's largest endowed chair. Story and video.
---
Black Male Summit Academy
Our Black Male Summit Academy launched in October, with more than 200 students from Akron, Canton and Cleveland public schools in attendance.
At the first meeting, they learned how to prepare for college, including a mock classroom session during which they learned lessons from our freshman orientation course curriculum.
We hope they will join us as students in a few years!
---
Homecoming King and Queen
Zippy and I escorted 2016 Homecoming King Todd Simmons and Queen Sandy Youseff onto the field Oct. 8.
Todd is an Akron native majoring in public relations, and Sandy is a civil engineering student from North Olmstead.
Congratulations to them and to our Zips football team, which defeated Miami 35-13.
---
Meeting and listening to high school principals
I'm in the process of visiting as many high schools as I can in Summit and surrounding counties, meeting the principals to better understand how we may best serve their students and faculty. Above, visits to Revere, Our Lady of the Elms and Firestone. More to come!
---
Clayton Murphy returns, triumphant
U.S. Olympic medalist and Forever Zip Clayton Murphy came back to his alma mater this week to talk about his experience of winning Olympic bronze (surprisingly heavy) in the 800-meter race at the 2016 Summer Olympics in Rio. Clayton was joined in Rio by two other Zips, pole vaulters Shawn Barber competing for Canada and Annika Roloff for Germany. Congratulations to all three!
MESSAGES AND MORE
In the news media:
HOW TO REACH ME
President Matthew J. Wilson
Email: mjwilson@uakron.edu
Phone: 330-972-7869
On Twitter: @profmattwilson
Mail: Office of the President
The University of Akron
Akron, OH 44325-2901