The University of Akron
Strategic plan
Dear University of Akron Community,
We are pleased to share our first Strategic Action Plan and Process. Under the leadership of Steve Ash and Tonia Ferrell, the University Planning Group (UPG) has developed a "living" planning process. This memo briefly describes this process.
Going forward, University Council (UC) will drive the strategic action plan and the process for evolving our planning activities. This ongoing process for shared input into the strategic plan falls under the responsibility of the UC by Board rule 3359-10-01.1. The UC has established the UPG to execute this responsibility. The UPG will be comprised of the UC Executive Committee as well as one dean and one academic chair/school director (appointed by the Executive Vice President and Provost or EVPP). The UPG will add others to the committee as needed. President Miller has designated the Provost as the chair of the UPG, as recommended by the current UC Executive Committee.
This plan will frame our activity for the next two years. We need to move quickly to achieve the promises that are articulated in this strategic action plan as well as developing new habits and processes that keep us energized and focused. Thus, the UPG recommended a few tools to help us put this plan into action. The tools seek to empower our programs and departments to pursue parts of the plan that are most relevant and meaningful to them. The first tool will help us to identify our sense of purpose within the new strategic plan by reckoning with our past and present so that we can move forward in a refreshed and energized way. This envisioning activity should naturally lead to the identification of aspirational goals for individuals. Thus, we can focus our energies on aspirations (A) that will move us towards the vision articulated in our strategic plan in a way that is most meaningful to each of us as individuals. Our progress towards achieving such aspirations will be tracked through a handful of key results (KR). This approach to goal setting is explained in Measure What Matters by John Doerr. We will call our goal setting structure AKRs and will get things done in the AKRon way!
AKRs will be one semester goals, and many will need to continue into the next semester or the summer session to be successfully completed. An AKRon coaching team will be available to provide advice and feedback to those that are utilizing AKRs to move their unit forward. In addition, we will select a Provost Faculty Fellow (via an internal search) to help lead this effort and provide a consistent follow-up and follow-through on this process. Any group on campus will be able to develop an AKR and have it posted in the shared folder. The process for AKR submission will be articulated at a later time on the UPG website. This shared folder will serve as a forum that allows us to communicate with each other about what we are working on and what we hope to achieve. More information about this approach and a series of training videos are available online.
The President's Cabinet and the College deans have launched their AKR ideas to help drive our new plan forward. These AKRs are available for view in this Teams folder. We are trying something new, and it will be clunky at the start. The Cabinet is scheduled to complete the envisioning activity in early December and will refresh and improve their AKRs after that event.
In closing, the UPG welcomes your feedback and assistance in advancing The University of Akron towards meeting the promises contained in this strategic action plan. Please email us if you have comments, questions, or feedback.
Sincerely,
The University Planning Group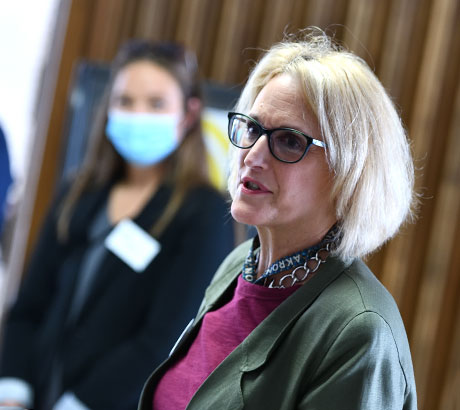 Strategic Plan History
Strategic Planning during a pandemic can be challenging. Read about our pre-pandemic origins and how we got things back on track earlier this year.