Located on the North Quad, Sisler-McFawn Residence Hall accommodates 64 men and women on separate floors in single rooms with secured community bathrooms located on the corridor. This facility is a three-story building and houses Emerging Leaders. Assignment to this hall requires a separate Emerging Leaders Application. Elevator service is available for residential use.
Amenities
Items in bedroom (per person)

Bed (36x80" mattress)
Wardrobe
3-drawer dresser
Desk and chair w/task lighting and hutch bookcase
One wastebasket
Additional Information
Laundry facilities located in basement
Air conditioning
Tile flooring
Mirror
Wireless internet and cable TV service
Secured community bathroom on each floor
Lounge area located on each floor and in the basement
Zip Card (student ID) access
Meal Plan required
Room Dimensions
Distance from first floor to ceiling: 8'1"
Room dimensions: 11'8" x 14'
Window dimensions: 11'11" x 5'5"
Additional Details
No. of Floors: 3
Location: North Quad
Gender: co-ed by floor
Bath: Corridor Bath
Smoke Free: yes,
Air Conditioning: yes
Cable: yes
Hardwire Internet: yes
Wireless Internet: yes
Computer Lab: no
Floor Study Areas: yes
Laundry Facilities: yes
Kitchen Facilities: no
Vending Machines: yes
Convenience Store: no
Disabled Access: yes
Elevator Access: yes
Meal Plan Required: yes
Living Learning Community: yes
Photo
Floor plans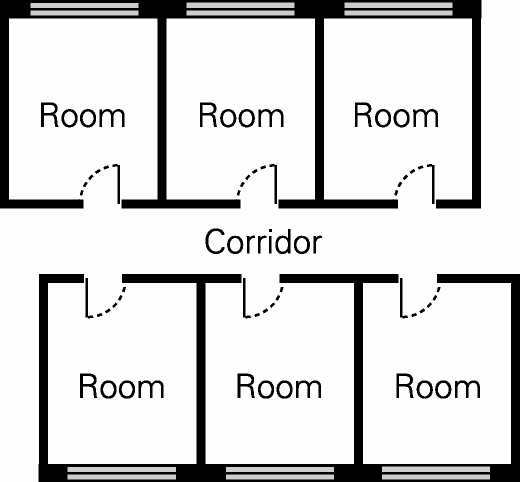 Building plan
Click here to view the layout of the residence hall.
---
Tweets by @UA_ResLife