Banking services in the Student Union: PNC Bank
PNC offers a complete set of money management tools and special benefits to University of Akron students and employees to help them achieve their financial goals.
To obtain the features of a PNC Virtual Wallet Student or a Work Place Banking account select from the additional information below, or call PNC's University of Akron On-Campus E-branch at 330-252-1726 for additional details.
On the web: pnc.com/uakron
---
On-Campus Branch Hours and Services
PNC Banking representatives will be available in the On-Campus E-branch on the first floor of the Student Union Monday-Friday.
Hours are:
Monday 8 a.m. to 5 p.m.
Tuesday 8 a.m. to 6 p.m.
Wednesday - Friday 8 a.m. to 5 p.m.
Services offered at the E-branch:
Online, Mobile & Text Message Banking Assistance
Opening Accounts
Assistance with using ATM to make a deposit or cash a check
Ordering New Debit Cards & Checks
Auto Alerts & Bill Payment Assistance
Coin is not available at this location. Please visit our East Exchange branch if coin transactions are needed.
---
PNC Campus ATM & Branch Locations
Five ATMs located around campus:
Student Union – PNC Bank E-branch, 1st floor – Accepts deposits, cashes checks and dispenses cash
Student Union, 2nd floor – cash only
Bierce Library – cash only
E.J. Thomas Hall – cash only
Polsky Building – cash only
Nearby full-service branch locations:
East Exchange Street office – 153 E. Exchange St., Akron (map). Open Monday through Thursday 9 a.m. to 4 p.m. and Fridays from 9 a.m. to 6 p.m. Phone: 330-375-8377
---
The University of Akron Check Card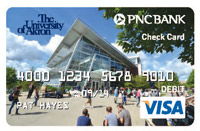 Show off your school pride when making purchases
Card is free to anyone who requests it
Not only great for students and employees, but also alumni and parents
Card may be ordered through any PNC Bank Branch or by calling 1-888-PNC-Bank
---
Student Banking
Features of a student checking account with PNC Bank:
Virtual Wallet Student - A checking account with no minimum balance
Unlimited ATM/check card usage
Free online banking, mobile banking, and text message banking1
Remote deposit options using your mobile device2
One free incoming domestic or international wire transfer per monthly statement cycle
One free courtesy overdraft refund within the first year of opening account3
Two free non-PNC ATM transactions per month
A customizable online calendar to keep track of your expenses and show important University events
---
WorkPlace Banking
PNC Bank offers a WorkPlace Banking program for University of Akron employees. Open an account with direct deposit and enjoy these benefits:
No monthly service charge with qualifying direct deposit 4
Free PNC ATMs and reimbursed Non-PNC ATM transactions 5
Free PNC-Exclusive Checks, Stop Payments, Cashier Checks, and Overdraft
Overdraft Protection set-up and transfers6
Identity-Theft Reimbursement Insurance 7
Refer a Co-Worker Rewards
---
Notes:
1 – Online Banking is free to customers with an eligible account; however there may be a fee for certain optional services. We reserve the right to decline or revoke access to Online Banking or any of its services. All online banking services are subject to and conditional upon adherence to the terms and conditions of the PNC Online Banking Service Agreement.
2 – PNC does not charge a fee for Mobile Banking. However, third party message and data rates may apply. These include fees your wireless carrier may charge you for data usage and text messaging services. Check with your wireless carrier for details regarding your specific wireless plan and any data usage or text messaging charges that may apply. Also, a supported mobile device is needed to use the Mobile Banking App. Mobile Deposit is a feature of PNC Mobile Banking. Use of the Mobile Deposit feature requires a supported camera-equipped device and you must download a PNC mobile banking app. Eligible PNC Bank account and PNC Bank Online Banking required. Certain other restrictions apply. See the mobile banking terms and conditions in the PNC Online Banking Service Agreement.
3 – Although the fee may be refunded, the transaction will be considered an overdraft occurrence when determining any subsequent overdraft fee.
4 – For Performance or Virtual Wallet with Performance Spend, the monthly service charge can be avoided if the total amount of all qualifying direct deposits credited to your account during the monthly statement period is at least $750.
5 – WorkPlace Banking Performance Checking and Virtual Wallet with Performance Spend provide automatic reimbursement of non-PNC Bank ATM fees. Other financial institutions' surcharge fees will be reimbursed at the end of the monthly statement period, up to $8 maximum.
6 – Federal regulation prohibits you from making more than a total of 6 transfers each month to other accounts from a savings or money market account (including transfers to another account for overdraft protection) or to third parties each month by check, through point-of-sale purchase transactions with a banking card, by preauthorized or automatic agreements, telephone, or online. See your account agreement for more information. Other limits may apply to your account. Excessive transactions may result in changing your Money Market or Savings account to a Free Checking account.
7 – Covers up to $5,000 out of pocket expenses incurred to regain your identity and to repair your credit. Certain restrictions and deductibles apply. Coverage applies to Primary checking account only, not to additional checking, savings or money market accounts. See the Summary Description of Benefits for the Personal, Internet and Identity Coverage Master Policy for details.
Please see our current Consumer Schedule of Service Charges and Fees for monthly service charge information and for other fees and charges that may apply.
Bank deposit products and services provided by PNC Bank, National Association. Member FDIC.