The Roo Lounge
---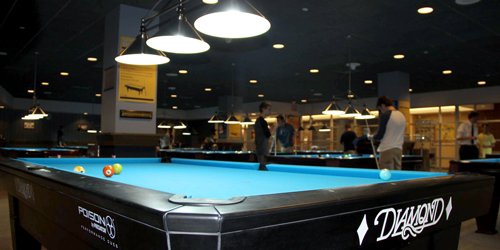 ---
Available in the Roo Lounge:
8 lanes in the Eddie Elias Bowling Center
13 billiard tables in the Barry Lefkowitz Billiard Parlor
Xbox One, PS4, Xbox 360, PS3 gaming consoles and 50 games
Full Handicap Accessibility
(4) 42 inch LCD flat Screens
Music & lots of fun!
---
HOURS OF OPERATION
The Roo Lounge will be closed for the summer
starting on Saturday, May 11 through
Wednesday, August 21, 2019


If you would like to book an event
in the Roo Lounge during the summer,
please email Event Planning Services with your request


For hours the Roo Lounge is closed on a weekly basis
for class, meetings or events Click Here


For the most current daily hours or special events
Visit our Facebook Page Click Here
*************************************************
Bowling and Billiards Clubs
Bowling and Billiards clubs meet on Wednesday night from 7pm-10pm. If interested in joining just stop by during club hours (every Wednesday from 7pm-10pm), or visit OrgSync for more information.
---
Reserve the Roo Lounge for a special event Today!
Departmental Requests Click Here
Student Organization Requests Click Here
---

For specific questions about the Roo Lounge, call 330-972-8462.
---

Guest passes are $5.00 each. We accept cash and most major credit cards.
---
A Great Venue For Your:
Class Reunion
Family Reunion
Company Event
Student Organization Socials