New anthology of contemporary poetry criticism: Quo Anima
01/18/2019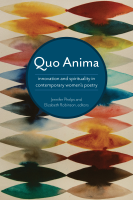 The University of Akron Press is excited to announce the latest book in its Series in Contemporary Poetics, Quo Anima: spirituality and innovation in contemporary women's poetry, edited by Jennifer Phelps and Elizabeth Robinson. This collection of literary criticism was produced in conjunction with The University of Akron Affordable Learning Initiative.
Quo Anima studies the poetry of contemporary women poets in relation to spirituality and innovative form. In the past two decades, a lively conversation has taken shape as more and more poets have risked engagement with various forms of mysticism. However, much of the critical response to this work has focused on male writers: there is a critical gap where women poets and the subject of spirituality is concerned. Quo Anima addresses that gap by offering a wide array of responses to women writers who are engaging with questions of spirituality. This anthology is distinctive not only for its subject matter but also because it includes essays, interviews, personal statements, and poems.
In addition, all of the contributing authors are poets. The collection considers the work of accomplished poets including (but not limited to) Brenda Hillman, Fanny Howe, Susan Howe, Alice Notley, Cole Swensen, and Cecilia Vicuña, as well as a range of less widely known, yet significant, poets.
Quo Anima is available in paperback for $29.95 online at The University of Akron Press.