University of Akron Press to Publish Poetry Collection Dear Outsiders by Jenny Sadre-Orafai
12/08/2021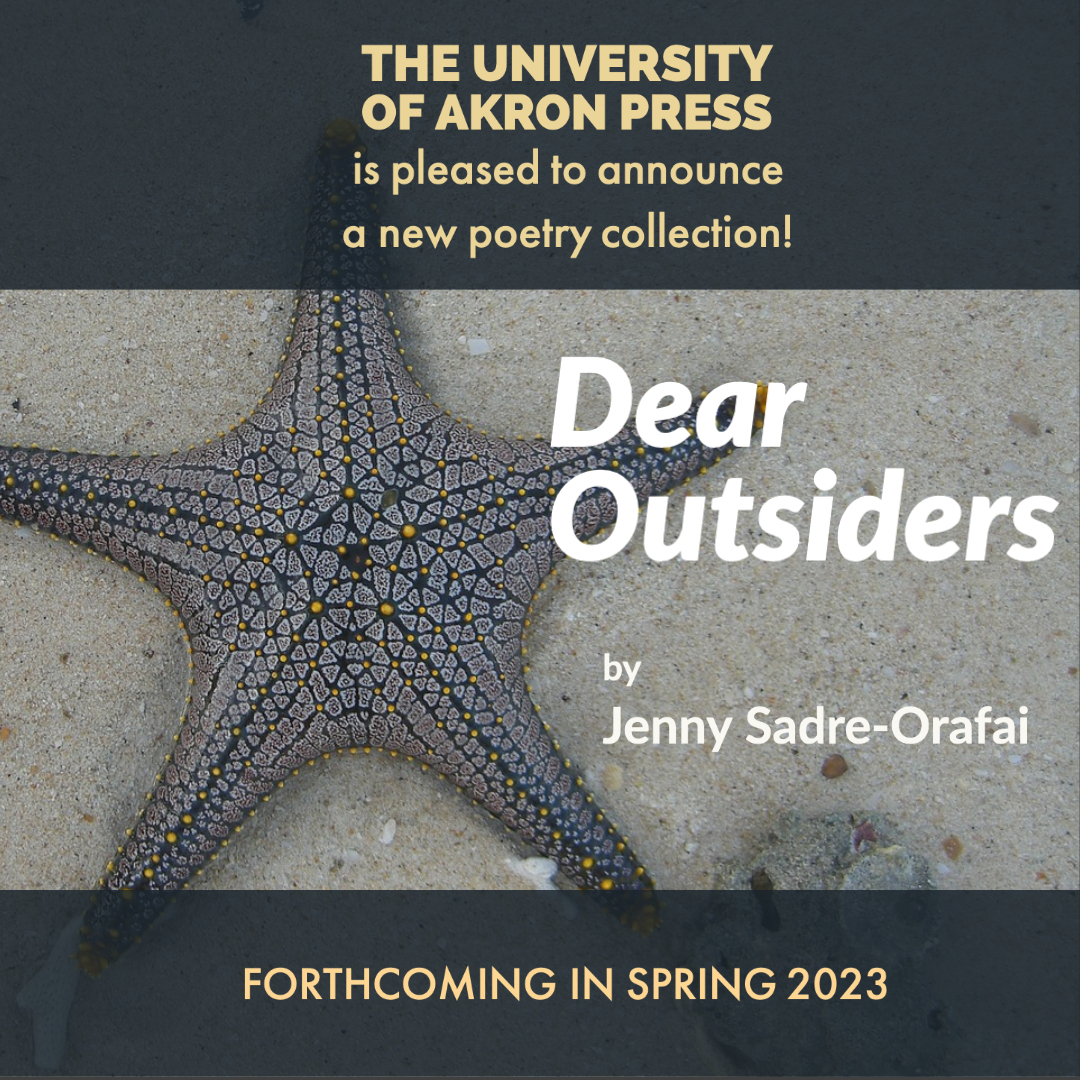 The University of Akron Press is pleased to announce that it will publish Dear Outsiders by Jenny Sadre-Orafai, runner-up in the 2021 Akron Poetry Prize competition, as this year's editor's choice selection. Contest judge Erika Meitner states of this collection:
Dear Outsiders opens in an unnamed coastal tourist town, where a pair of siblings recount fragments of their mythical upbringing on the beach in a dreamy collective voice. Jenny Sadre-Orafai creates a gorgeous and fully realized world with tiny interlinked prose poems that paint a lush picture of childhood beaches teeming with flora and fauna—dolphins and terns, jellyfish and urchin crabs—and local characters from beach-combers to bait-shop owners. When their parents drown, the siblings relocate inland to a rural agricultural area, and their memories become even more fragmented and urgent as they struggle to make sense of the shift from ocean to land. Equal parts elegy and ode, Dear Outsiders plumbs the very nature of home—who's visiting and who belongs—and how tragedy can shape the language of narrative and memory.
Jenny Sadre-Orafai is the author of Paper Cotton Leather and Malak and the co-author of Book of Levitations. Her poetry has appeared in Cream City Review, Ninth Letter, The Cortland Review, Hotel Amerika, and others. Her prose has appeared in The Rumpus, Fourteen Hills, The Los Angeles Review, and others. She is a professor at Kennesaw State University, co-founding editor of Josephine Quarterly, and Executive Director of Georgia Writers.
Dear Outsiders explores how we can both be a part of and stranger to our environment and to our families and how our identities are formed by where and who we come from. Told through two siblings' perspectives of the loss of their parents and what it means to be deserted and alive, the collection is a map of isolation and longing. The surreal and slippery poems grapple with how we survive devastation and what home can mean.