New edition of Twice Told by Caryl Pagel
01/10/2019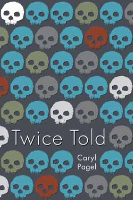 The Akron Series in Poetry has published a new edition of poetry collection Twice Told by Caryl Pagel
The University of Akron Press is excited to announce that it has brought Caryl Pagel's poetry collection Twice Told back into print with a new edition as part of the Akron Series in Poetry.
Pagel is the author of the poetry collections Twice Told and Experiments I Should Like Tried at My Own Death. Her essays have appeared in AGNI, The Collagist, Entropy, Essay Press, Wave Composition, and The Mississippi Review. Pagel is the cofounder and editor of Rescue Press and the director of the Cleveland State University Poetry Center. She is an assistant professor at Cleveland State University, where she teaches poetry and nonfiction in the NEOMFA program.
The poems in Twice Told roam through Midwest and western landscapes haunted by shards of nineteenth century gothic novels, war stories, warnings, and the ghosts of known and imagined lovers, mothers, soldiers, trainmates, and mistresses. These are poems interested in narrative framing, repetition, rumor, humor, and hearsay; poems that loop back in on themselves as they compulsively repeat the details of furious, apparitional pasts—implicating both teller and reader in their impacts.