"Sticky" research lands polymer science graduate in Washington D.C.
05/28/2020

As part of The University of Akron's sesquicentennial celebration — honoring 150 years of our people, place and promises — we are hosting a "Celebration of Academic Excellence" to highlight the history and future of our many academic disciplines.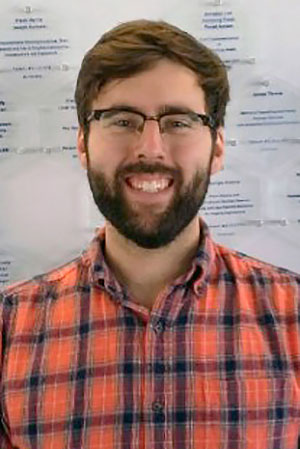 Having graduated with a Ph.D. in Polymer Science from The University of Akron (UA) in May 2020, Michael Wilson recently began his career as a postdoctoral researcher in the National Research Council Research Associateship Program at the U.S. Naval Research Laboratory in Washington, D.C., where he will continue his research on adhesion.
In his doctoral program, Wilson worked with his advisor, Dr. Ali Dhinojwala, H.A. Morton Professor of Polymer Science, to characterize the effect of substrate softness on the clinging ability of geckos to better understand underwater adhesion. This research has commercial implications for the design of a synthetic, gecko-inspired adhesive.
"When looking at the vast array of literature, it seemed to me that people had identified a number of chemistries, which were hypothesized to improve underwater adhesion," Wilson said. "However, there didn't seem to be a framework that people were using to understand these chemistries. This open area led me to study the interactions between molecules and try to connect these interactions with adhesion using established models from chemistry."
Biomimicry Research Fellowship
Wilson's research on gecko-inspired adhesives — a longtime interest for Dhinojwala, a recipient of the 2020 Adhesion Society's Award for Excellence in Adhesion Science sponsored by 3M — is an example of biomimicry, a source of innovation that comes about through emulation of biological forms, processes, patterns and systems to solve human challenges. Wilson, who earned his undergraduate degree in materials science and engineering at The University of Tennessee, first learned about biomimicry at UA, through its internationally recognized, interdisciplinary Biomimicry Research and Innovation Center (BRIC).
"I would say the biomimicry program has most contributed to my growth," said Wilson. "I had not had experience in biology since early high school, but I was able to approach biological systems with a viewpoint from materials science. The aspect of biomimicry which caught my attention is that learning from nature not only provides technological advancement, but also allows us to discover more about the world and our place in it."
Through BRIC's Biomimicry Fellowship Program — in which doctoral students are supported through industrial assistantships with organizational sponsors — Wilson worked with Lubrizol Corp. in Wickliffe, Ohio, dedicating up to 20 hours per week advancing biomimicry initiatives within the organization.
"My fellowship involved working alongside Lubrizol to solve industrial challenges using nature as inspiration," explained Wilson. "When I came to graduate school, I did not expect to have been so connected with the study of biological systems, but collaboration with people in the Integrated Bioscience program helped me learn a diversity of new topics."
The "polymer science of cooking"
Outside of the classroom, one of Wilson's favorite pastimes at UA was getting together with friends to cook meals.
"With the international diversity in my program and research group, I had the ability to experience and learn how to make cuisine from around the world," said Wilson.
As a result, he co-designed and co-taught an Honors Colloquium course called "Polymer Science of Cooking" with Dr. Hunter King, an assistant professor of polymer science and, along with Dhinojwala, BRIC "core" faculty member. The two had previously discussed the overlap in the fundamental concepts in polymer science and those of food processing and cooking and thought the relationship would make for a class.
"If you understand what a network is and how to form them in different ways," Wilson explained, "that knowledge can come right out of something as familiar as Jell-O."
---
Media contact: Lisa Craig, 330-972-7429 or lmc91@uakron.edu.