Gale Crosley, CPA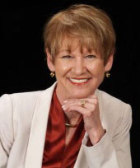 Title: President, Crosley Company
Dept/Program: Daverio School of Accountancy Advisory Board

---
Professional & Academic Experience
Gale Crosley, CPA, President at Crosley & Company, was selected one of the 10 Most Recommended Consultants in the Inside Public Accounting BEST OF THE BEST for the ninth consecutive year, and one of the Top 100 Most Influential People in Accounting by Accounting Today for the seventh consecutive year. She consults with mid-market accounting firms, assisting managing partners, partners, and marketing directors, to effectively increase their firm's revenues. She guides them through development of the best strategies and tactics to achieve aggressive revenue growth objectives.
Gale's 35 plus years of experience features a unique combination as a practicing CPA at Arthur Andersen, PwC, and a local CPA firm. She has also held senior management roles in business development and marketing in the cutting edge technology environment with IBM, MCI and several start-up technology companies. Gale has helped dozens of large and large-thinking firms, both domestic and international, create high growth cultures, driving revenue from all aspects of the practice. Her cornerstone book, At the Crossroads, chronicles the challenges and successes of a fictional CPA firm struggling with growth.
She is an honors accounting graduate from the University of Akron, Ohio, and winner of the Simonetti Distinguished Business Alumni Award. Gale is a licensed CPA in Ohio and Georgia, a member of the AICPA, the Ohio Society and Georgia Society of CPAs, and is on the Editorial Advisory Board of the Journal of Accountancy. She is a member of the Advisory Board of the George W. Daverio School of Accountancy at The University of Akron.
---