The College of Business Administration (CBA) helps students get ready to make a difference through rigorous coursework and developmental opportunities that range from classroom consulting projects, internships, and professional networking, to leadership and business communication training.


What's Happening at the CBA

United American Capital Corporation (UACC), an investment advising group run by CBA alumnus Dennis Yacobozzi that manages public funds, was recently ranked 76 on CNBC's Top 100 Fee-Only Wealth Management Firms 2015 List.

Associate Professor of Management and coordinator of the CBA's supply chain program, Mahesh Srinivasan, Ph.D., is quoted in the Crain's Cleveland Business article, Supply Chain Industry Trying to Meet Demand.
Listen to Associate Professor of Marketing and Associate Director of Suarez Applied Marketing Research LaboratoriesTerry Daugherty, Ph.D., on WAKR-AM's Jasen Sokol Show as he discusses research linking the financial success or failure of "direct-response" TV ads to specific areas of the brain.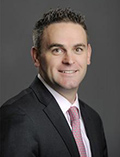 James Moorhead, Senior Vice President and Chief Marketing Officer (CMO) for DISH Network, will be honored with the Direct Marketer of the Year Award at Interaction 2015, which will be hosted by The Gary L. and Karen S. Taylor Institute for Direct Marketing at The University of Akron on May 21.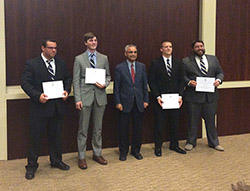 Congratulations to a team of four CBA students—Ted Balog, John Haladyna, Jonathan McPherson, and Tommy Wardyniec—who took second place in a projects category and third overall among 12 teams that competed in the 2015 Annual Information Systems Project and Case Competition held at Ball State University. The group's faculty advisor was Professor of Management Liping Liu, Ph.D.
The competition had three primary categories: project, case study, and presentation. The projects portion was work that students completed during their school year. The case was completed on-site, in which students were given one evening to analyze it and prepare their materials. Both the projects work and cases were presented to a group of six Information Technology executives, who judged the students' performance. The overall ranking was based on performance in all three categories.
Teams that participated in this year's event were from Ball State University, Marietta College, Millikin University, Purdue University, the University of Southern Indiana, and the University of Toledo.