What's Happening at the CBA
Marketing Student Chapter Wins in Two Categories at International Competition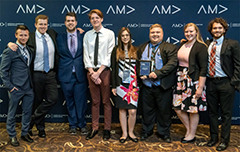 For the first time in several years, members of our College of Business Administration's American Marketing Association (AMA) student organization competed at the AMA International Collegiate Conference, held in New Orleans April 11-13. The decision to enter the competition was a good one, since the chapter won Exemplary Collegiate Chapter Performance in both Chapter Planning and Community & Social Impact against more than 300 chapters, with more than 1,600 members.
PSE Akron Finishes 3rd, Earns Top Amethyst Chapter at 2019 PSE National Convention

Sydney Bornstine, Julia Baumann, Justyne Lyons, Mia Santagata, George Zawahri, Benjamin Walton, and Donald Fisher had a productive Spring Break, as they drove to Jacksonville, FL, to represent The University of Akron at the 2019 PSE National Convention. Their third place finish earned then the title of the 2019 Lloyd L. Antle Top Amethyst Chapter.
Econ Instructor Recognized at Passion Awards 2019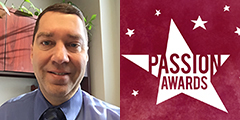 Congratulations to Mr. Todd Bragg of the Department of Economics, who was an honoree at the Annual Passion Awards that was held on March 12, 2019.
More News