Thomas R. Hager, CPA, CGMA, NSSA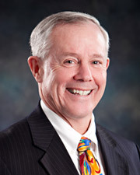 Title: Managing Partner, Schlabig & Associates Ltd.
Dept/Program: Daverio School of Accountancy Advisory Board

---
Professional & Academic Experience
Thomas R. Hager is a certified public accountant and managing partner of Schlabig & Associates, Ltd. He has been with the firm since 1976. His responsibilities include tax planning and management advisory services mainly related to closely held businesses.
Tom earned his CPA in Ohio in 1979. He also is certified by the Cambridge Institute of Family Business Planning and Succession Planning. He also is uniquely certified to assist individuals and families navigating the social security system through his licensure as a National Social Security Advisor. In addition, Hager earned licensure for advising on life insurance and annuities through the Ohio Department of Insurance.
His memberships include the American Institute of Certified Public Accountants and The Ohio Society of CPAs. He also serves on the Robinson Memorial Hospital Planned Giving Foundation, The University of Akron Accountancy Advisory Board, the WKSU-FM Finance Committee and Advisory Council, the PBS Channels 45/49 Board of Directors and the Board of Directors of St. John's Villa. Tom is a graduate of St. Michael's College in Winooski, Vermont. He resides in Bath. He enjoys running.
---