John Collier '90 '91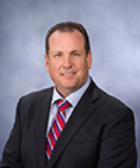 Title: CEO
Dept/Program: Chair, Department of Economics Advisory Board

---
Professional & Academic Experience
John Collier is the Principal franchise owner and Chief Executive Officer of a Northeast Ohio Investment and Wealth Management firm. The firm consults with high net worth individuals and families, institutions, and small businesses in the areas of investment and wealth management, retirement, tax, and estate planning. John is a previous member of the President Advisory Committee and is a Circle of Success Advisor. He has served in the financial services industry for over 27 years.
John graduated from the University of Akron with a Bachelor of the Arts Degree in Economics in 1990 and earned his Master of the Arts Degree in Economics from the University of Akron in 1991. He became a Certified Financial Planner (CFP) in 1999. In 2006 he attended the University of Pennsylvania Wharton School of business and completed the Investment Management Analyst program, earning the Certified Investment Management Analyst (CIMA) designation. John is a veteran of the U.S Army and Ohio Army National Guard. Throughout his career, he has enjoyed teaching personal finance, economics, and business classes at local community colleges.
John is married to his wife Beth, and lives in Sagamore Hills, Ohio where they have raised their three children. John supports and volunteers for many non-profit and community organizations including: The Fisher House of Dayton, Northeast Ohio Foundation for Patriotism (NEOPAT), First Tee of Cleveland, and Case Western Reserve University Wrestling and Athletics to name a few. He has served as an active board member for Cleveland Saves, a non-profit designed to help with financial literacy and education in underserved communities. John enjoys golf, fishing, travel, and is a life-long season ticket holder of the Cleveland Browns!
"I believe that critical thinking skills and logical thought processes necessary for the study of economics is extremely important for the next generation work force. The amount of data available to the public and private sectors appears unlimited. The individual skilled in critical thinking and decision making will be essential to help guide organizational strategies and policies in an era of unfiltered information. I believe these skills have been a major contributor to my business and personal success."
---