Matthew Brenn, MBA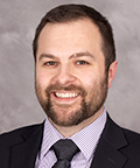 Title:
Visiting Assistant Professor of Practice
Dept/Program:
Department of Management
Office:
CBA 333
Phone:
(330) 972-5802
Email:
mjb57@uakron.edu
---
Education
Passed Level I of the CFA exams - June 2016
The University of Akron: MBA - Management, December 2011
The University of Akron: B.S - Applied Mathematics (Emphasis on Actuarial Science), August 2008
Passed Society of Actuaries Exams 1 & 2 (Probability and Financial Mathematics)
---
Professional & Academic Experience
Academic & Professional Experience
August 2017 - Present, Visiting assistant professor of practice, The University of Akron. Teacher of 4 sections of Business Statistics and Business Analytics per semester. Working to develop online learning content with an Open Educational Resource.
January 2016 - August 2017, Assistant Lecturer, The University of Akron. Teacher of 2 sections of Business Statistics. Developed online, video curriculum & lectures. Worked with peers regarding curriculum changes and final exam development.
July 2011 - October 2014, Business Owner, Brennform, LLC. Cuyahoga Falls, OH Owner of patent for Bridge Deck Construction Forms. Presented/attended tradeshows (Jumpstart & World of Concrete). Developed/managed Company Website and all communications. Developed marketing branding, logo, and marketing materials. Worked with Ohio MTSBDC (Manufacturing and Technology Small Business Development Centers of Ohio) to develop business plan. Presented for and guided engineering Ideation through Ohio MTSBDC. Worked with Kokosing Construction Company to determine feasibility.
September 2008 - January 2011, Actuarial Analyst, Charles Schwab & Co., Inc. Primary Analyst on 6 corporate pension plans, performed actuarial work & responsible for data updating, benefit calculations, and client interaction.
January 2011 - December 2011, Graduate Assistant, The University of Akron. Tutors for undergraduate/graduate Quantitative Business Analytics students. Programmed/maintained Assignment software.
---