Steven Dimengo, JD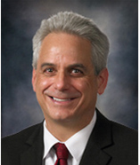 Title: Part Time Faculty
Dept/Program: GW Daverio School of Accountancy
Email: sdimengo@bdblaw.com

---
Education
J.D., School of Law, The University of Akron, (1986)
M.A., Taxation, The University of Akron, (1986)
B.A., The University of Akron, (1983)
---
Biography
Steve Dimengo presently serves as department head of the Taxation Section of the Business Practice Group at Buckingham, Doolittle & Burroughs. His practice primarily includes consultation and representation with respect to Federal, Multistate and Ohio tax law matters. Steve is routinely engaged to structure proposed transactions in a manner to obtain optimum tax minimization and is actively involved in representation before the Ohio Tax Commissioner, Board of Tax Appeals of Ohio and the Ohio Supreme Court, as well as before the Internal Revenue Service.
Steve received his B.A., magna cum laude, and MTax from The University of Akron and JD, cum laude, from The University of Akron School of Law. He is admitted to practice before the Ohio Bar, U.S. District Court, and U.S. Tax Court and is Chair of the Taxation Section of the Ohio State Bar Association.
Steve teaches State & Local Taxation in The University of Akron's MTax Program.
---
Professional & Academic Experience
Professional Experience:
Buckingham, Doolittle & Burroughs, LLP, Partner (1994 - Present)
Buckingham, Doolittle & Burroughs, LLP, Associate Attorney (1989 - 1994)
---
Research
Publications
Mr. Dimengo has written various tax articles appearing in:
The Ohio CPA Journal
Ohio Tax Review
The Akron/Canton Chapter of the Ohio Society of CPAs newsletter
Small Business News
Akron Tax Journal
The University of Akron Law Review
The Advisor, a Buckingham, Doolittle & Burroughs, LLP publication
BDB Business Compass, a Buckingham, Doolittle & Burroughs, LLP publication
Presentations
"Sales & Use Tax: Maximizing Sales/Use Tax Exemption for Manufacturers" (2008 Ohio Tax Conference)
"Ohio Sales & Use Tax: New Audit Developments & Refund Policies" (2007 Ohio Tax Conference)
"Can Anything Be a Business Fixture?" (2006 Ohio Tax Conference)
"What You Need to Know About Ohio's New and Old Tax Provisions" (Fall 2006)
"Minimizing Sales and Use Tax in Ohio"
"Sales and Use Tax in Ohio"
"Ohio Sales/Use Tax: Recent Trends, Developments and Planning Opportunities"
"Tax Free (Like – Kind) Exchanges of Real Estate" (2003 and 2006)
---