Tweet
New executive director of Taylor Institute and Suarez Laboratories relishes dual role
02/28/2011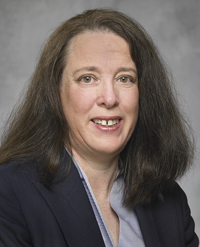 Kathleen Kennedy
---
Kathleen Kennedy brings three decades of business experience to her new role as executive director of the Taylor Institute for Direct Marketing and the Suarez Applied Marketing Research Laboratories at The University of Akron.
Her experience and expertise, including strategic planning, brand development and management, customer experience management, loyalty marketing and marketing research, will serve students in the College of Business Administration well as they prepare for their careers. The Taylor Institute and the Suarez Laboratories, located in the Polsky Building, are unique learning and research environments — not just for undergraduate and graduate students, but for faculty and the business community as well.
Gifts from alumni continually benefit students
UA alumni Gary L. Taylor, founder and chairman of InfoCision Management Corporation, and his wife Karen established the Taylor Institute in 2004. Its curriculum is focused on the ever-changing world of marketing in such areas as direct marketing management, integrated marketing communications and telemarketing services. UA students benefit from working firsthand with the Taylor Institute's external client base, and the institute also provides conferences, seminars and certification programs for the direct marketing industry.
UA alumnus Benjamin Suarez, CEO of Suarez Corporation Industries, and his wife Nancy established the Suarez Laboratories in 2008. Designed as a one-of-a-kind marketing research, teaching and experiential learning facility, students and faculty today use its resources to develop and translate knowledge into useful intelligence for the business community. At the Suarez Laboratories, for example, students use such state-of-the-art techniques as eye tracking to better understand respondents' real time feelings, impressions and emotions toward marketing messages and products.
The missions of both facilities are what drew Kennedy to UA.
"Over the course of my career, some of the things I've been most passionate about are developing a better understanding of consumer motivation and behavior, creating direct and interactive communications that build customer relationships and sales, and promoting best practices in direct marketing," says Kennedy, who earned an MBA at the University of Miami and a B.A. at the University of Delaware.
Enhanced marketing and business education
"One of my chief goals in leading the Taylor Institute and the Suarez Laboratories is to provide UA students with real-world marketing experiences by building bridges between our students and the professional community," Kennedy continues. "I am equally committed to providing UA students and faculty with access to the latest integrated marketing techniques, and to information and technology to enhance their marketing and business education."
Prior to joining The University of Akron, Kennedy held senior marketing positions with several major corporations, including Broadway Stores/Federated Department Stores, Office Depot and Hancock Fabrics, and held senior positions at leading direct and interactive agencies, including OgilvyOne, the direct and interactive marketing division of Ogilvy & Mather.
Kennedy is also a successful entrepreneur, and has had extensive experience in building public-private partnerships that foster economic growth through entrepreneurship. She served as the founding executive director of the Center for Innovative Entrepreneurship, a nonprofit research and education organization dedicated to understanding the economic value of entrepreneurs and fostering business development through innovation.
More collaborative research under way
"We're very pleased to have Kathleen Kennedy heading this initiative, which brings together our students and faculty as well as the Northeast Ohio business community to focus on applying innovative approaches to integrated marketing and advanced market research," says Ravi Krovi, dean of the College of Business Administration. "She is already leading a major collaborative research effort with faculty to apply and integrate advanced biometric, neurological and neural computing technology in advertising, branding and media testing."
Kennedy's arrival also is welcomed by Stan Silverman, dean of Summit College. Many of the college's departments, along with the Taylor Institute and the Suarez Laboratories, are located in the Polsky Building.
"One of the University's most important goals is to continually add value to the educational experiences of all of our students," notes Silverman. "I believe Kathleen Kennedy's vast experience in corporate leadership and as an entrepreneur will help us to do just that."
To learn more, visit the Taylor Institute for Direct Marketing and the Suarez Laboratories for Applied Marketing Research.
Media contact: Laura Massie, 330-972-6476 or massie1@.uakron.edu.