Tweet
College of Business Administration again ranked by Businessweek as one of the top undergraduate programs in U.S.
05/01/2012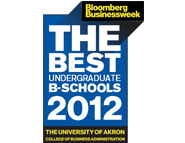 The University of Akron College of Business Administration (CBA) has been named by Bloomberg Businessweek as one of the best undergraduate schools in the nation for the fourth consecutive year.
In the magazine's 2012 annual ranking of undergraduate business programs in the United States, UA was ranked 85 overall nationally, up from 98 last year, and also ranked 17 overall in recruiter satisfaction. We are the only business program at a public university in Northeast Ohio in the top 100. There are more than 1,600 undergraduate business programs in the U.S.
Businessweek bases the ranking on the academic quality of the programs, post-graduation outcomes for students, recruiter satisfaction and nine measures of student satisfaction.
Academic quality is calculated by combining SAT scores, student-to-faculty ratios, class size, the percentage of students with internships and the number of hours students devote to coursework. Post-graduation outcomes are measured by median starting salaries for graduates and the number of graduates each programs sends to top MBA programs.
For the satisfaction ratings, Businessweek asked graduating seniors to complete a 50-question survey on topics ranging from quality of teaching to recreational facilities. They also pulled corporate recruiters for companies that hire thousands of business majors each year. The magazine asked which programs turn out the best graduates and which schools have the most innovative curricula and most effective career services.
The student survey score counts for 30% of the final ranking, with the recruiter survey score contributing 20%. Median starting salaries and the MBA feeder school measure contribute 10% each. The academic quality measure supplies the remaining 30%.
"The Bloomberg Businessweek top program ranking is a testimonial to the efforts of our excellent and highly qualified faculty," says CBA dean Ravi Krovi. "This recognition, in addition to our other rankings and notable accomplishments, reflects the CBA's emphasis on program quality and student success."