Tweet
No. 1 part-time MBA program in region boosts income and job opportunities
11/17/2011

With significantly more people pursuing part-time MBA programs in the hope of increasing their attractiveness in a tight job market, rankings by major publications like Bloomberg BusinessWeek are taking on new significance. The complex methodology to rank programs boils down to some important distinctions: Are students satisfied with the quality of their education and with their peers? Do these programs help them advance in their careers and earn more money?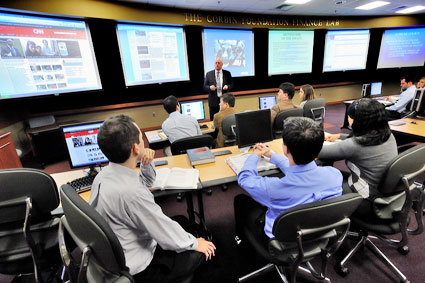 Answers to these and other questions resulted in The University of Akron's part-time MBA program being ranked No. 1 in Northeast Ohio, when compared to all other part-time MBA programs in the region, testimony to the investment UA has made in programming directly linked to successful economic outcomes.
"When I began the program at Akron, I had very little expectations for how the MBA would impact me personally," said Jessica Hanlon, a full-time employee of The J.M. Smucker Company, who received her degree in May 2011. "However, I am noticing, as are my peers and management, that I am able to take more leadership roles and have more confidence in the material I am presenting. The only factor that has truly changed in my life is my pursuit of this degree."
UA program among nation's best
The University of Akron's College of Business Administration (CBA), which has the highest form of accreditation from AACSB International – the Association to Advance Collegiate Schools of Business, is one of the best institutions in the U.S. from which to earn an MBA degree, according to both Bloomberg BusinessWeek and The Princeton Review.
In the BusinessWeek 2011 rankings of top MBA programs, the CBA's part-time MBA program is ranked 34th in the nation among part-time programs. The publication makes special note of the comparably lower cost per credit hour at UA's program, the caliber of students and the high number of graduates reporting a salary increase.
It is noteworthy that schools have to be invited to be considered for participation in the Bloomberg BusinessWeek rankings survey, and UA's MBA program succeeded in getting a top ranking on its first try, according to Susan C. Hanlon (no relation to Jessica Hanlon), CBA's interim assistant dean and director of graduate programs. The college's part-time MBA program is one of more than 1,600 such programs offered by AACSB member schools.
For more on BusinessWeek's methodology of ranking business schools, go to www.businessweek.com.
Flexible program meets students' needs
Earlier this year, The Princeton Review also ranked the college's MBA program among the best in the nation. The editors noted that the CBA's "flexibility of programs — a crucial element for the school's many part-time students — is another frequently cited asset at this impressive public university."
While these rankings are a source of pride, notes CBA Dean Ravi Krovi, they are also "a testimonial to the efforts of our excellent and highly qualified faculty. These recognitions, in addition to our other notable accomplishments, reflect the CBA's emphasis on program quality and student success."
In a collaborative effort between faculty and corporate advisory boards, the CBA recently restructured its graduate programs to emphasize flexibility, interdisciplinary studies, action learning and globalization. In addition, the curriculum includes leadership, negotiations and professional integrity.
---
Media contact: Laura Massie, 330-972-6476 or massie1@uakron.edu.