Tweet
CBA Students are participating in Northeast Ohio's 'Coolest Internship' and Among Those Nominated for 'Best Intern'
04/19/2018
Northeast Ohio Student Venture Fund (NEOSVF), which employs three UA student interns, received the "Coolest Internship" award at the 2018 Expys – an event held April 11 by the Northeast Ohio Council on Higher Education (NOCHE) to honor excellence in experiential learning.
Since 2011, NOCHE and Contempo DESIGN + COMMUNICATIONS have presented the Expys, NOCHE's annual awards program recognizing and celebrating the best-of-the-best in Northeast Ohio's internship and experiential learning ecosystem. Each year nominations from hundreds of individuals, companies and organizations throughout the region are submitted for six award categories.
NEOSVF's award-winning internship is a unique venture capital-like internship experience that allows students to interact directly with startup company CEOs and attend entrepreneurship events and conferences. Student interns design and distribute marketing materials at these conferences, facilitating personal interactions with startup founders, investors, economic development personnel and corporate commercialization experts.
"We were against some tough competition, but I believe the teamwork aspect of NEOSVF is what really pushed us to the victory," Khalifa said. "Our ideas and contributions to the organization are really taken into consideration and valued, which is something I appreciate the most about NEOSVF."
NEOSVF also allows student volunteers to make recommendations on real-world investments in Northeast Ohio startup companies. Since 2013, 750 students have participated in startup due diligence activities or attended events, and NEOSVF has invested $305,000 in 14 local startups, which have subsequently raised more than $8.5 million in follow-on funding.
In addition to honoring excellence in student internship opportunities, the Expys recognize top performing interns as selected by their employers. Three UA students were among the 10 finalists of the "Best Intern" award, including CBA student, Devin Clark, who interned at Penske Truck Leasing and is majoring in sales management. Other nominees from UA include Jaya Sai Varre, NEOSVF intern; and Jonathan Tucker, Safran Electrical & Power intern.
The emcee at the awards luncheon was Monica Robins of WKYC-TV.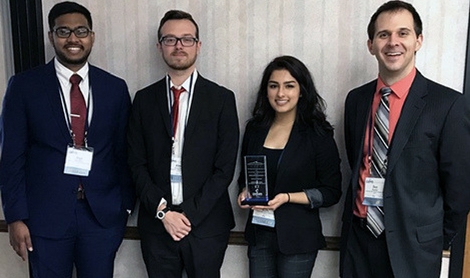 Pictured above accepting the 2018 Expy are, (from left)Jaya Sai Varre, a joint degree candidate in our MBA program and at Northeast Ohio Medical University; Alex Gingrich, an MBA candidate; and Alizeh Khalifa, a marketing management undergraduate, alongside their supervisor, Daniel Hampu, executive director of NEOSVF.