Meet PNC Achievers Farah Holozadah & Loren Cristian Jackson
12/05/2019
PNC Bank partnered with Akron Athletics to recognize students who display well-rounded achievement. The Fall 2019 recipients are University of Akron graduate student Farah Holozadah (Twinsburg, Ohio) and redshirt junior Loren Cristian Jackson (men's basketball).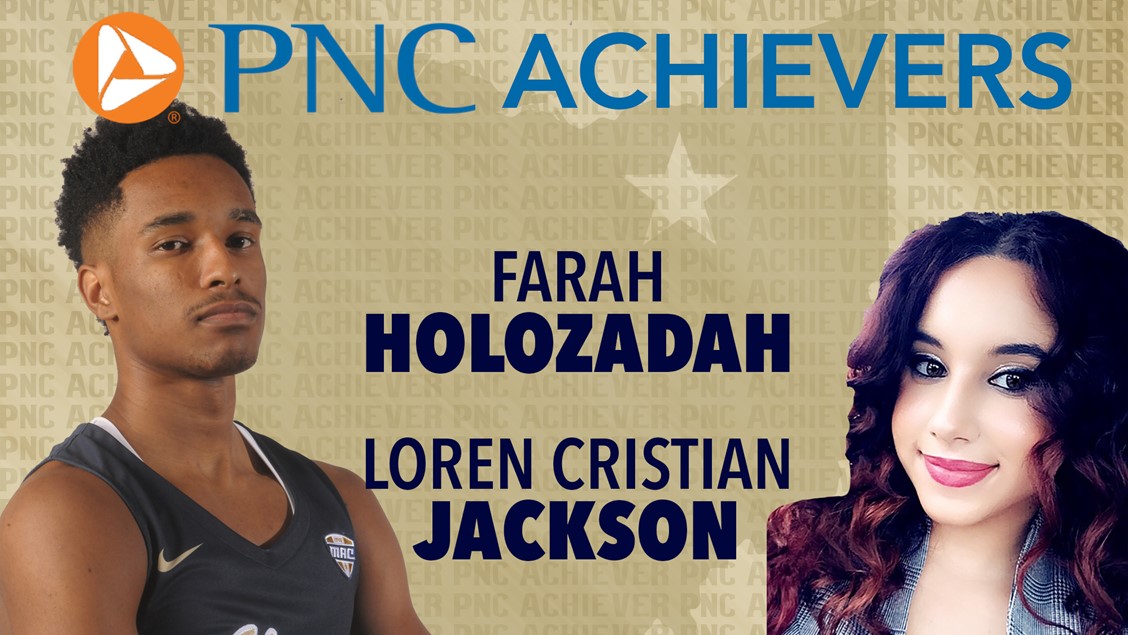 ***
Farah Holozadah of Twinsburg has some advice for other students: Don't take the easy road.
Take the course taught by the hard professor, volunteer for projects others avoid, face tough challenges.
"Employers comment that many new college grad hires have to be taught the importance of tenacity and rising above challenges and hurdles," Holozadah said. "Once you've conquered one or more of these battles, you can proudly discuss the accomplishment in job interviews."
Her tenacity, achievements in and out of the classroom and involvement in the community have earned Holozadah the PNC Student Achiever award for the fall semester at the University of Akron. The award is given to two students each semester who excel in various ways during their college careers.
Holozadah admits she wasn't always a star student but her mentors in high school helped her reach her potential. Now, as a graduate student, she tries to pay it forward by mentoring fellow students.
Being named a PNC Student Achiever is further acknowledgement of how far she has come and serves as a reminder that everything she does is worthwhile, no matter how hard.
"I feel very honored to receive this award," Holozadah said."I feel like no matter how much I do, it's never enough. Having wonderful faculty around me that constantly recognize my efforts helps keep my motivation going."
Having completed her bachelor's degree in accounting in May, she will earn her master's degree in taxation in May 2020. Holozadah received a diploma from the National Society of Collegiate Scholars, is the president of Beta Alpha Psi accounting association, and is on the International Board of the Financial Management Nonprofit Organization. She also serves as a CPA campus ambassador and is treasurer of the Muslim Students Association.
In addition to her academic success, Holozadah is active in the community. She has volunteered at Legacy Place Nursing Home, The Humane Society and the Akron-Canton Foodbank, to name a few. Being involved in and around campus is important.
"Get involved early," she advises other students. "This will provide you with valuable work and social skills that can help with your career down the line."
***
Basketball has played a big role in Loren Cristian Jackson's life, and he's preparing himself to help many others have similar experiences.
His hard work on and off the court has earned Jackson the honor of being named a PNC Student Achiever for fall 2019 at the University of Akron. The program honors two students each semester who have excelled in a variety of ways in their college careers.
"It's great to be recognized for such a prestigious award," Jackson said. "I never thought I'd be one of the students chosen as a PNC Student Achiever."
The award is well deserved.
As a graduating senior majoring in business administration, with a minor in entrepreneurship, he is an Academic All-MAC selection and is a member of the National Society of Leadership and Success. And he's not stopping there.
Jackson will begin pursuing his graduate degree at the University of Akron in the spring, focusing on sports management and coaching. The continuing tie to sports is intentional.
Jackson's father owns Victory Rock Prep, a basketball preparatory school in Bradenton, Fla., that aims to help players excel in the game. Jackson is expected to take over the business – and he has big plans.
"I would like to expand the business to other states, and maybe even another country," Jackson said.