Five Students Attending Schwab Conference: McCools and Others Providing Financial Support
09/28/2016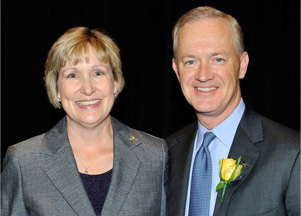 For the fifth year, the generosity of James '82 and Diana McCool '80 is allowing five College of Business Administration (CBA) Finance students to attend the Charles Schwab-sponsored IMPACT conference. This year congratulations are due to Cinara Foor, Allie Miller, Gage Paul, Layne Scheufler, Kelsey Vaughn, and Daniel Vujanov, who had to apply to attend. At the conference, scheduled for October 24-27 in San Diego, students will meet and learn from financial advising professionals while attending education sessions, including one about leadership positions for young talent within firms, a networking lunch with Schwab Relationship Managers and Advisor Services executives, a talent career fair, and an exclusive reception for advisors, Schwab leaders, faculty, and students.
Students benefit from full access to all education sessions and keynote speaker presentations including Alan Simpson, retired senator, Robert Reich, former Secretary of Labor, and Earvin "Magic" Johnson, NBA Hall of Famer and professional sports team owner.
James McCool is executive vice president of client solutions for Charles Schwab in San Francisco, and both he and Diana are proud University of Akron graduates. Over the years, Jim has shared his expertise with UA business students in a number of forums: as keynote speaker of the 2012 Economic Summit, an H. Peter Burg Personal Leadership and Development lecturer, and a Dr. Frank Simonetti Distinguished Alumni Award recipient. Diana also has contributed to student success, interacting with various UA finance student groups and sharing her positive message about Midwestern values.
Along with the gift from the McCools, the CBA's Department of Finance, with assistance from the Department of Finance Advisory Board, will provide financial support for the trip. The students attending will be sharing their experiences with the Financial Advisory Board, and CBA student-run Finance student organizations.