Tweet
UA students show how to "GoPro" at Rosetta Digital Marketing Competition
2016-12-02 00:00:00.0
University of Akron marketing students recently traveled to downtown Cleveland for sixth annual Rosetta Digital Marketing competition with one goal in mind – to win for the second year in a row. With their creative marketing-oriented minds put to the test, the UA students truly earned their first place finish.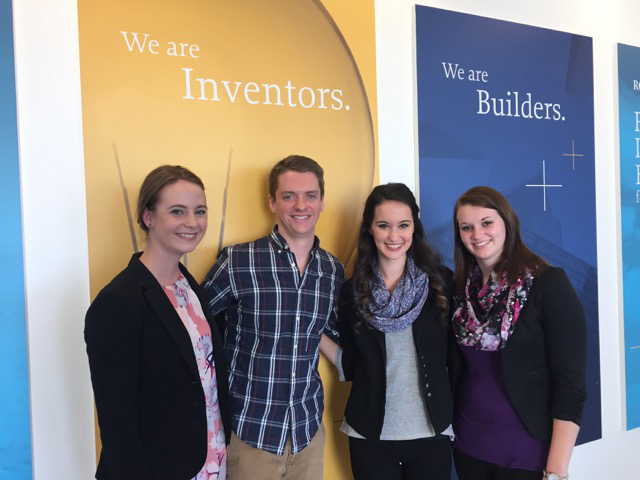 The 2016 Rosetta Winning Team members are, from left, Shelby Hoge, Alex Fuss, Jessica Dixon and Ashley Cosher.
"Our students continue to excel at this competition and it demonstrates the depth of their digital media strategy knowledge," said Dr. Federico de Gregorio, associate professor of marketing at UA and faculty advisor for the marketing students. "We had three different University of Akron teams in the finals, which is extremely remarkable and shows the amount of talent our students possess."
Intense preparation pays off
The winning team members are Jessica Dixon, Ashley Cosher, Alex Fuss and Shelby Hoge. The students represent the Department of Marketing in the College of Business Administration. During the first half of the semester, they concentrated on learning concepts related to media strategy, while the second half was focused on preparing for the four-week Rosetta Competition.
The goal for each team was to create a digital-only media strategy campaign for the product GoPro Karma Drone, a device that flies and captures video simultaneously from any altitude. The first phase of the competition required teams to write their digital media strategy. In their strategy, the students applied their knowledge of paid media, search engine optimization, social media and analytics.
If a team's written marketing strategy passed the test, it moved on to the presentation phase. This phase gave the students the opportunity to persuade and demonstrate their digital marketing campaign to industry experts from Rosetta Digital Marketing Company.
What made the winning UA students stand out?
Polished professionalism
According to the judges, their in-depth strategy, clarity of ideas, polished professionalism, creative marketing components and the ability to answer the judges' questions with ease. The team executed every component of the competition flawlessly.
The UA team competed against universities from all over the country, including New York, Pennsylvania, Washington and California as well as two other teams from UA. Each student on the winning team received a GoPro and a recommendation from Rosetta on their LinkedIn Profile.

Story by Courtney Bosetti

---
Media contact: Dan Minnich, 330-972-6476 or dminnich@uakron.edu.