Tweet
Team of social entrepreneurs competing for prestigious Hult Prize
2017-01-13 09:30:00.0
A team of three University of Akron students is one of 300 international teams chosen to compete for the 8th annual Hult Prize, which is done in partnership with the Clinton Global Initiative. More than 50,000 teams made up of the brightest collegiate minds around the world entered the 2017 competition.
The UA team members are Williams Honors College undergraduate students — junior international business and economics major Ariana Ćubela, from Kirtland, Ohio; senior marketing major Kelsey Jones, from Green, Ohio; and freshman computer engineering major SaiPranay Vellala from Rocky River, Ohio. Read more about the students and the competition.
"It's not every day that you have an opportunity to change the world – in this case, to help solve the global refugee crisis – and that opportunity has been given to the students at UA," says Hult Prize Akron campus director Chanel Jackson.
Game-changing idea
The students are spending January and February brainstorming, researching and finalizing their game-changing idea. The team will then present it in the upcoming regional finals in Shanghai on March 3 and 4, 2017. First place teams from each of the five regional finals will compete in New York City in September for first place and $1 million in seed funding for their idea.
Since 2009, President Bill Clinton has asked college and university teams to build sustainable and scalable, for-good, for-profit enterprises to address global challenges. His challenge for 2017 is "Refugees - Reawakening Human Potential" and will focus on restoring the rights and dignity of people and societies who may be, or are forced into motion due to social injustices, politics, economic pressures, climate change and war. Teams will also work to restore the rights and dignity of those currently living in informal/illegal settlements. The aim is to reach 10 million refugees by 2022.
2016 was UA's first entrée into the Hult Prize competition, and the team finished among the top six out of 70+ teams competing in its region. One 2017 team member, Kelsey Jones, also was on last year's team, and hopes that experience will help this team advance to the finals.
---
Media contact: Lisa Craig, 330-972-7429 or lmc91@uakron.edu.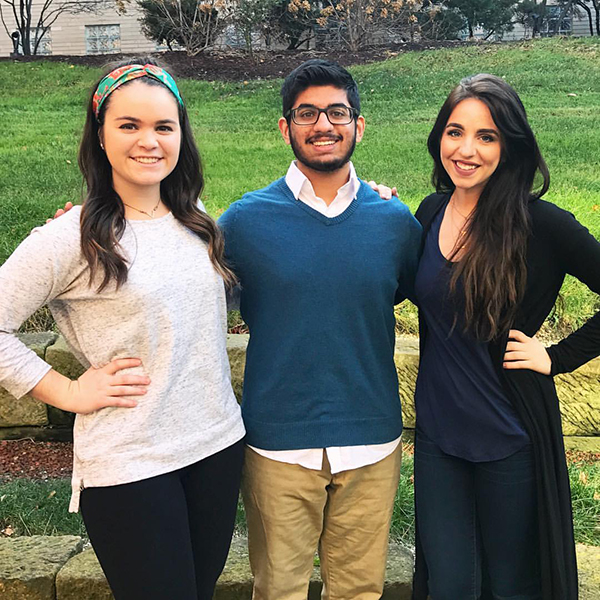 Members of UA's 2017 Hult Prize team are, from left, Ariana Ćubela, SaiPranay Vellala and Kelsey Jones.