Tweet
Diving In - Embracing Opportunities and Finding Success
03/19/2018
Hannah, like many high school seniors, was unsure of what she wanted to study when she was choosing a university. "At first I thought I wanted to study exercise science and then I realized how much I disliked chemistry, so I decided not to go down that path. I liked customer service and I wanted to be able to help people, so I thought sales might be a good fit. It's another way to help people and reach an audience."
It was a campus visit that would eventually cement her decision to attend The University of Akron. On her visit, Hannah had the opportunity to tour the CBA where she met Dave Payne, the director of the Fisher Institute for Professional Selling. "He gave me a tour of the Fisher institute and I was impressed by how many connections Akron has to big companies," Hannah recalled. "When I finally decided on business and decided on sales, Akron seemed like a no brainer."
Hitting the Ground Running
In their first year at the CBA, all business students take a Freshmen Success course. The class is structured to provide students with professional development tools that will act as a solid foundation as they move forward with their studies and, later, their careers. Through the course, students prepare resumes, gain interview and networking skills, and participate in professional development workshops, events, and panels throughout the semester. It was at one of these events that Hannah found her first internship.
The event, titled Real People Real Careers, brings in business professionals to share their experiences in the workplace. The featured speaker that afternoon was Sherwin Williams Akron area recruiter, Tim Miller. While many freshmen might balk at the thought of meeting a business executive one-on-one, Hannah was intrigued by the connections between Akron and Sherwin Williams that Mr. Miller described and wanted to learn more. "I went up and introduced myself because the opportunities he talked about seemed interesting. He gave me his card and told me to visit the company table at the career fair." Taking him up on his offer, Hannah visited the Sherwin Williams table at The University of Akron Internship and Career Fair a short time later where she was invited to submit an online internship application. After successfully making it through a three-level interview process, Hannah landed her first internship.
Sherwin Williams Internship
As a sales associate at Sherwin Williams' Belden Village location, Hannah had the opportunity to experience multiple facets of the sales field, including how to connect with customers and make a sale at the retail level. That summer, the company ran a competition called The Emerald Project, which challenged teams of interns across the Mid- Ohio district to sell the most Emerald paint during a specific time frame. "I made a display in my store and always mentioned Emerald to the customers," Hannah explained. "At the end, they announced who sold the most in my district and my team won! We had the opportunity to give a presentation to all the districts and the district managers."
In addition to her in-store experiences, Hannah was able to shadow a sales rep, gaining perspective on larger, outside sales work, and participate in a series of lead generation calls. "It was a well-rounded internship and I had the opportunity to see a little bit of everything…it was fun getting a perspective of inside and outside sales."
Following her internship with Sherwin Williams, Hannah took on a new opportunity in August with Yoga Squared, a yoga studio located in Highland Square. As an intern in a smaller business setting, she has been able to have a hand in everything from sales to outreach. "I work on retention marketing and I help create and implement successful social media campaigns," Hannah explained. "I also work on campus outreach, develop relationships with customers and create local business collaborations." This summer, Hannah will return once again to the bigger business environment, starting a third internship at the transportation service company, Penske.
Beyond the Classroom
While she was busy completing her first internship, Hannah was also participating in several organizations around campus. In addition to sales, Hannah expressed a strong interest in International Business and took on the position of fundraising chair for the International Business Association (IBA) at the end of her freshmen year. "I became involved with IBA last year when I came to Akron. They're open to all majors and they mostly focus on gaining professionalism and providing networking opportunities. I'm interested in international business, so it has been fun to learn about it in a group setting." Hannah now serves the organization as Vice President.
Hannah is also active in several community and social organizations, including social sorority, Alpha Delta Pi, which she serves as Recruitment and Marketing Vice President, and volunteer organization, Zips for Akron Hope, which offers tutoring for Akron elementary school students. "I also recently joined an organization on campus called the Period Project," Hannah shared. "They are raising money and awareness to provide feminine products to people who can't afford them or who don't have them. They're fairly new, so they're trying to spread the word and I'm excited to be a part of that."
The Student Unity Project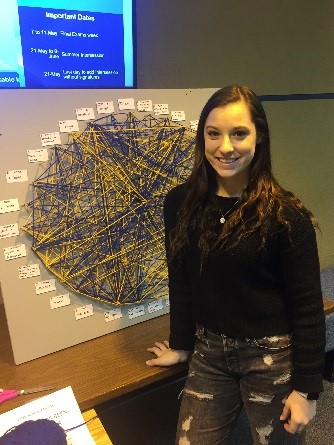 This semester, Hannah had a unique opportunity to team up with The University of Akron's Rethinking Race initiative. In partnership with the program, Hannah hosted an interactive public art piece, titled The Student Unity Project, in the CBA Atrium. A series of labeled nails arranged in a circle display labels such as "I am student" and "I am single". Participants use thread to connect the labels with which they identify.
"The Student Unity project hopes to raise consciousness about the labels we give ourselves and others and explore how those labels both support and limit how we connect with each other," Hannah shared. "Our labels are tied to assumptions that frame our beliefs about other people. When we uncouple these labels and assumptions, we can start to relate to people without judgment. It is in this space that we can truly hear and appreciate each other." The piece will be on display again on March 21, this time in the Student Union for those interested in adding their story to the work.
Embracing Opportunities
Now wrapping up her second year at The University of Akron, Hannah shared three pieces of advice for incoming freshmen who, like her, want to hit the ground running:
"Take advantage of the resources that Akron has for you because that's really what I did. Take advantage of the professors we have here in the CBA because they're here and willing to talk to you. Second, keep your eyes peeled and your ears open. Third, don't be afraid to introduce yourself or network or go to events and gain more information about what's going on. Go get that first year internship."