Tweet
"We Had this Crazy Idea...and the CBA Allowed It"
08/30/2017
Founded in 1898, the Goodyear Tire & Rubber Company has been a fixture in Akron for nearly 120 years. This pillar of industry and business has also been a longtime partner of The College of Business Administration, hiring many student interns and graduates over the years and inviting CBA students to tour its facilities and learn from its top executives.
Over the summer, Integrated Marketing Communications (IMC) major, Drew Dawson, was able to benefit from this partnership first-hand as a summer intern. Approaching his Junior year, Drew was unsure if he wanted a career in marketing or supply chain management, both areas of interest. Prior to his work with Goodyear, Drew had already gained valuable experience in the field of marketing, interning as a Human Resource Analyst at the company, New Innovations, and spending the spring of his Sophomore year as an intern at Akron fixture, The Devil Strip Magazine. His hope was that an internship in the supply chain field would help to clarify his career goals while also providing some additional real-world experience.
It was CBA Executive Director of Corporate Outreach and Professional Development, Andy Platt, who initially connected Drew with Goodyear. "He knew I was looking for an internship and forwarded me an email from the HR coordinator at Goodyear. I set up a phone interview and was hired."
Education in Action
In late May, Drew began his internship in the Demand Planning Department, where his primary responsibility involved taking historical sales data and making forecasts for the future. "They trust their interns and treat them like full-time employees," Drew shared. "At first, it was like drinking out of a fire hose, but I'm enjoying my time here now." Far from being a coffee-fetcher, Drew was trusted with work used in real projects. "One cool thing that happened was I spent a couple weeks on a project and it was used by my boss in a presentation to an important client. Something I worked on had meaning to it…it made me feel like I have a significant role."
While Goodyear sets high expectations for employees and interns alike, the company is intentional about providing its interns with guidance, as well as fun every now and then. "Goodyear does a good job at helping the interns get to know each other, even though there are about 100 summer interns. They host a dinner series in Akron and have volleyball games and cookouts. The Directors and VPs often attend, so you get to network in addition to relaxing."
Drew shared that one of the most rewarding aspects of his internship has been the ability to see the business process at work. "The stuff I'm learning here, I would normally be paying for in a college course.
Every student should get an internship at least once in their college career. It teaches soft skills and completes the package. You get to learn the different parts of how a business works. You don't always get to see all those parts interact in the classroom. An internship glues them all together."
A Running Start
Though he hasn't yet begun his Junior year, Drew already has a wealth of experience in leadership and business under his belt. In addition to his three internships, Drew spent a summer acting as a student mentor for the Oelschlager Summer Leadership Institute, participated in four leadership and service trips to Haiti with the CBA's Institute for Leadership Advancement, two of which he led, and helped to start the successful nonprofit company, Zips for Haiti Coffee, all before he reached the halfway point of his college career.
Even before he was a student at the CBA, Drew displayed an affinity for business. In high school, the owner of the restaurant at which he worked allowed him to take over the marketing and social media for the business. "I liked seeing how business would fluctuate based on my efforts." When it came time to look for a college, he knew business would be his field of study. In his search to find the right school, Drew learned that The University of Akron not only had a nationally ranked business school, it also offered the most in scholarships. "The question became 'Why NOT Akron?' It was a no brainer."
Zips for Haiti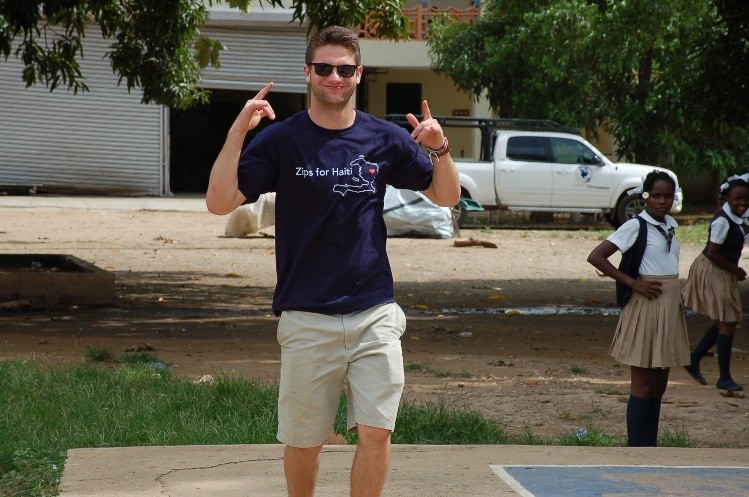 As summer transitions into fall, Drew will be turning more of his focus to the nonprofit student organization, Zips for Haiti, which he will head up as President this year. Drew first visited Haiti in 2016 on one of the Institute for Leadership Advancement's semi-annual service trips. Like other students before him, Drew found a deep connection with Haiti and the students with whom he worked.
In the spring of 2016, the students involved in Zips for Haiti set an ambitious goal: to raise $90,000 to send a Haitian student to The University of Akron for 4 years. The group held multiple fundraisers, but the money wasn't coming in as quickly as they would have liked, so the students began to think out of the box.
"We had this crazy idea," Drew stated, "and UA and the CBA allowed it. I don't think you find that at other schools. It really sets The University of Akron apart." In June of 2016, Drew traveled to Haiti to search for a quality source of coffee beans with the goal of bringing them back to Akron to roast and sell as a way to raise money towards the scholarship. Using $3,500 gathered from past fundraising events, the students secured a broker to import the beans, designed a company logo, set up a supply chain, and Zips for Haiti Coffee was founded. Today a group of 50 dedicated students run their own, functioning nonprofit business—a feat many more experienced people have yet to achieve.
From purchase to sale, the organization is run almost entirely by students. As Director of Sales, Drew collaborated with local company, Akron Coffee Roasters, to negotiate a partnership for roasting and selling the coffee online and as an in-house brand. He also oversees the shipment and sales of monthly orders while other students work together to handle the accounting, marketing, labor, and investments, meeting with companies and local CEOs to share their story and gain donors. Since they first began the project in 2016, Zips for Haiti Coffee has raised roughly $30,000 and gained the support of significant donors such as Valmark and The J.M. Smucker Company.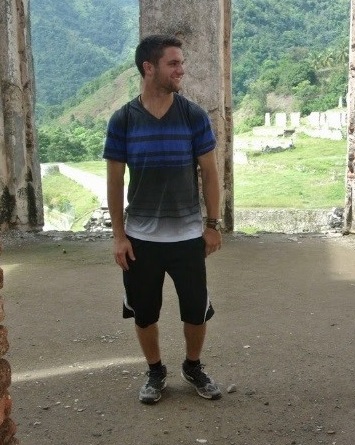 "It's kind of fun for me," Drew shared. "It's been a small business to learn from. I've been able to gain experience in finance, accounting, marketing…That kind of experience is priceless."
Having worked so closely with Zips for Haiti, it's little wonder that Drew made the decision to add a minor in International Business onto his IMC major at the end of the summer. Moving into the school year, Drew and the other 100 members of Zips for Haiti will continue to plan more service trips to the island country while they also work hard here in Akron to reach their goal of bringing a Haitian student to The University of Akron, one bag of coffee at a time.
As we head into the school year, we will continue to keep up with the activities and accomplishments of our CBA students. Be sure to follow us on Facebook, Twitter, and Instagram so you never miss a story!
To learn more about internships, visit http://www.uakron.edu/cba/internships/
To learn more about Zips for Haiti, visit www.zipsforhaiti.org