Tweet
Future business leaders get insight on making an impact
2015-11-17 00:00:00.0
Five College of Business Administration students had a unique experiential learning opportunity when they were able to attend the IMPACT Conference Nov. 10-13 in Boston. Accompanying them was advisor Eric R. Brisker, an assistant professor of finance at UA.
---
The annual conference is an invitation-only, industry event for registered investment advisors who come together to network and to learn about issues and the latest in best practices. Funding for the UA students to attend the conference was provided by UA alumni Jim '82 and Diana '80 McCool.
Jim McCool, who is executive vice president of corporate initiatives at Charles Schwab, also had UA recognized as a "premiere" school, ensuring an invitation to each year's IMPACT conference.
Also attending the conference was John Sturiale '90, a senior vice president for Charles Schwab Investment Management. His wife, Michelle, is a 1991 UA graduate.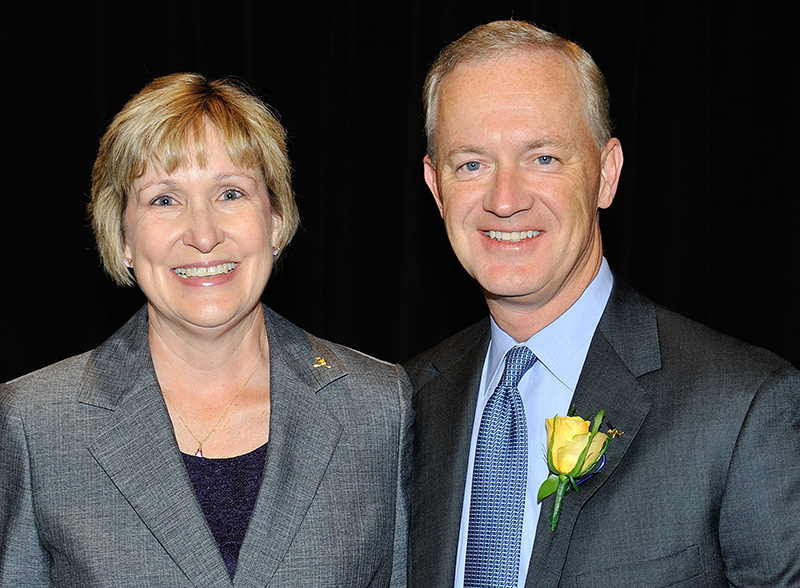 Jim and Diana McCool.
---
Both McCool and Sturiale spent time with the UA contingent to offer their perspectives on the investment field and advice on the students' chosen career paths.
The UA students in attendance were Adrianna Demjanjuk, Broadview Heights, financial planning; Samuel Distler, Cincinnati, finance major; Mazen Hasan, Green, corporate financial management; Preston Matos, Tallmadge, corporate financial management/financial planning; and Benjamin Schwarz, Akron, finance/financial planning.
"The opportunities that The University of Akron has made possible for me are invaluable," notes Demjanjuk, who plans to graduate in December 2016. "I believe a critical aspect of education is getting real world exposure. Being able to attend IMPACT is just one example of how the University has given me the ability to break into the financial planning industry.
"One of the most valuable aspects of attending the conference was hearing from industry leaders, such as Schwab executives and top RIA firms," continues Demjanjuk. "It was extremely motivational to be a part of the conference and to see all the opportunities there are in the financial planning industry."