Tweet
Game changing on a global scale — UA team ready to lead the way
02/27/2017
The challenge: Can we build sustainable, scalable start-up enterprises that restore the rights and dignity of 10 million refugees by 2022?
That may sound like an impossible feat, but not to three University of Akron students who believe they have developed a business idea to positively impact that many people and more, in countries around the world, for as long as needed in the years to come.
This is the second consecutive year that a UA team has been chosen to be among the 300 international collegiate teams competing to answer a challenge issued by former president Bill Clinton for the Hult Prize Competition. Now in its eighth year, the competition is hosted in partnership with the Clinton Global Initiative.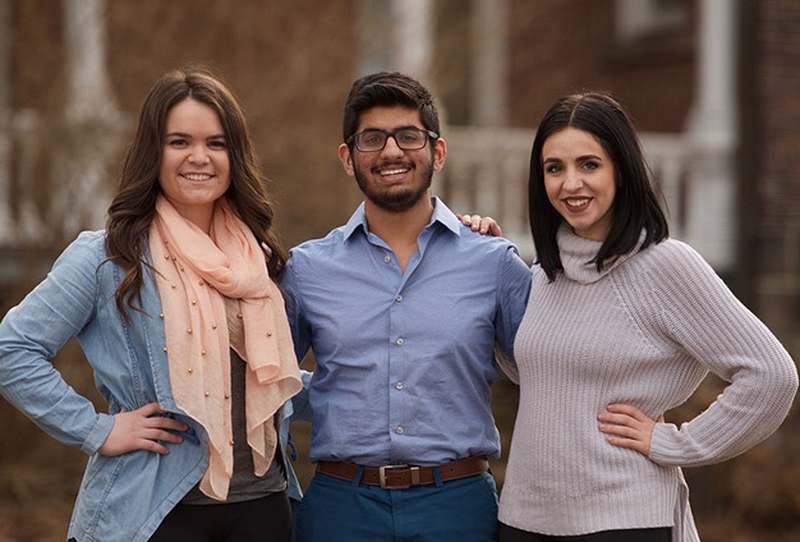 Representing The University of Akron in the 2017 Hult Prize Competition are Ariana Ćubela, left, SaiPranay Vellala and Kelsey Jones.
For what is considered the world's largest student case competition, the teams are heading to one of five sites — London, Shanghai, Boston, San Francisco and Dubai — to pitch their projects this week. Each site will produce one winner, and the five winning teams will then compete in New York City in September. The winning team in that final round will be awarded $1 million in seed capital to turn its idea into reality.
Shanghai is the destination for the UA team, which is composed of Williams Honors College undergraduate students — junior international business and economics major Ariana Ćubela of Kirtland, senior marketing major Kelsey Jones of Green, and freshman computer engineering major SaiPranay Vellala of Rocky River. Jones, this year's team captain, also was a member of UA's 2016 Hult Prize Team.
Local refugees inspire UA team
Through their research and many one-on-one conversations with refugees who live in Akron's North Hill neighborhood, the UA students have developed an innovative social enterprise.
And what is it exactly?
That will be revealed during the team's pitch on March 4. Until then, it's under wraps.
"I am incredibly proud of this team," says Dr. Lakeesha Ransom, dean of the Williams Honors College. "Within a matter of a few months, they've developed a scalable solution that could potentially impact millions of lives the world over. They're set to pitch alongside some of the most competitive universities in the world, and I believe they will do extraordinarily well."
Their hard work on behalf of refugees has had benefits for the team members as well," notes Ćubela.
"I have always known that I had more opportunities growing up than many other women around the world," she says. "The Hult Prize has put into perspective the importance of being a global citizen and using the opportunities that I have to help others. As altruistic as it sounds, social entrepreneurship is a mutually beneficial business and going through the process of this competition has been full of positive learning experiences."
Related: