Tweet
CBA Students Take First Place at Finance Industry Issues Competition
2018-04-10 16:15:00.0
Congratulations to the student team of Shelby Amatangelo (Accounting and Financial Planning double major), Gabrielle Mollick (Financial Planning major), and Kevin Kerka (Master of Taxation graduate student), who took first place at the 2018 Financial Service Professionals (FSP) Industry Issues Competition. As one of three finalists, the UA team presented their original research in an oral competition held during the FSP's unique Financial ConNEXTion Educational Cruise through Key West, Florida and Cozumel, Mexico. This marks the second year The University of Akron finished as a top 3 finalist.
The 2018 competition focused on the topic of Career Opportunities: Evaluating Careers and the Role Credentialed Education Furthers Success in the Financial Service Profession. Prior to the cruise, the students spent months interviewing professionals and analyzing their career paths to compile a 25-page written solution. The winning report examined details such as career responsibilities, professional growth, client interaction, the value of professional associations and peer relationships, the role of ongoing education in furthering success, and the future of the researched career paths, among other professional aspects.
In addition to presenting, the team had the opportunity to network with industry professionals and participate in educational sessions during the cruise. As part of their first place prize, the team was awarded a $5,000 scholarship to support the College of Business Administration's Finance program.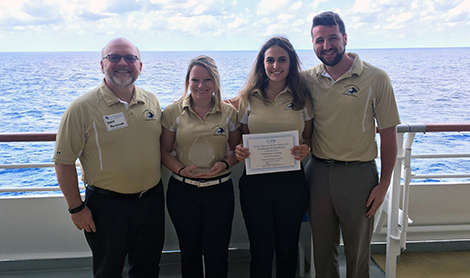 Pictured left to right – Shelby Amatangelo, Gabrielle Mollick and Kevin Kerka. At far left is Dr. Barry Mulholland, visiting professor of practice and faculty advisor).