Tweet
CBA Team Wins at National Sales & Marketing Fraternity Convention
2018-05-22 12:30:00.0
Members of The University of Akron chapter of Pi Sigma Epsilon, a professional fraternity for students and industry professionals in Marketing and Sales Management, took home top prizes at the organization's 62nd National Convention. The convention took place April 9-13, 2018 at the Town and Country Hotel in San Diego, CA.
Besting 60 other university chapters across the nation, the UA Gamma Kappa chapter took 1st place in the Silver Chapter category and, in recognition of their support and involvement with UA Remembrance Day, earned 2nd in the Top Not-for-Profit Marketing Project category.
Two individuals also brought home awards and scholarships. Senior Integrated Marketing Communications and Information Systems major, Kristin Genetin, won 1st place for Top Project Manager. Julia Baumann, a sophomore studying business administration, was awarded The Future Leader Scholarship, which recognizes freshman and sophomore members of Pi Sigma Epsilon who display the potential to become great future leaders of their chapters and of PSE. In addition to being recognized at the Thursday night scholarship dinner in front of hundreds of her colleagues, Julia won free registration to the National Convention ($295 value) and a $100 travel stipend.
About Pi Sigma Epsilon
Pi Sigma Epsilon is the nation's only professional business fraternity for men and women in the fields of sales, marketing and management. Pi Sigma Epsilon has enriched the lives of over 50,000 people and has spread to over 170 campuses nationwide since its inception in 1952. For more information on Pi Sigma Epsilon, visit www.pse.org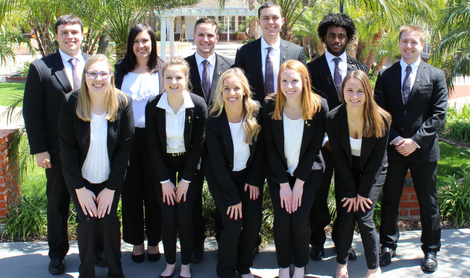 (back row left to right) Brian Shaffer, Elizabeth Helbley, Joey Klemm, Luke Habyan, Kevin Smith, Bradley Zerucha.
(front row left to right) Julia Baumann, Jenny Hornyak, Kristin Genetin, Amanda Shaffer, Juliette Bell