Beta Alpha Psi Chapter Earns Top Honors
12/05/2019
Our student chapter of Beta Alpha Psi has achieved the Superior status for 2018-2019. The chapter has achieved award status for 33 years straight — 29 of them have been Superior and four have been Distinguished. Members meet weekly and also hold various additional professional and service activities during the year. New members were inducted this semester and are pictured above.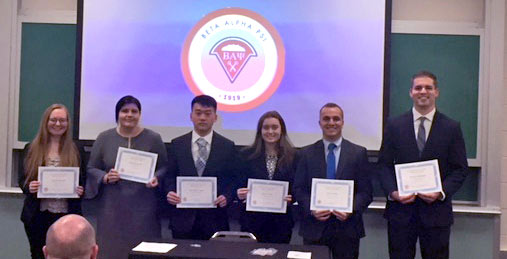 Founded in 1919, Beta Alpha Psi is an honor organization for financial information students and professionals. There are more than 300 chapters on college and university campuses worldwide. All of the chapters are AACSB and/or EQUIS accredited. The organization's purpose is to recognize outstanding academic achievement in the field of accounting, finance and information systems; to promote the student and practice in those fields; encourage a sense of ethical, social and public responsibility.
Students who wish to join Beta Alpha Psi, must be accounting, finance, or information systems majors; have a 3.0 GPA in upper level courses of their major; achieve 20 points (earned through participation in professional and service activities) in the semester of their induction.
To be named a Superior Chapter the chapter must meet the national criteria. The criteria is a combination of professional and service activities. The chapter must have an average of 32 hours in those areas per member. Last year UA had an average of 21 members. They achieved 495 professional hours and 429 service hours for a total of 924 hours of professional and community involvement.
Among the many activities undertaken in the last year, the chapter has:
Participated in National Literacy Day to promote literacy and financial literacy in elementary schools)
Volunteered at Boo at the Akron Zoo, Akron-Canton Regional Food Bank, Haven of Rest, Akron Marathon, One of a Kind Pet Rescue, and provided cookie donations to area hospices, Relay for Life, etc.
Professional presentations at regional and national meetings on topics including chapter operations and/or use of technology.
Hosted weekly meetings with employers in which a topic relevant to the business professional was presented.
"These are amazing, talented, passionate and driven students," notes Julianne Jones, associate professor of practice in the George W. Daverio School of Accountancy. "I am proud to work with them every day. Their excitement and love of the University and accounting drives their longstanding success."