Tweet
2015 Executive Business Forum – Dr. Albert Green
12/09/2015
Dr. Albert Green was the featured speaker at the 2015 Executive Business Forum (EBF) lecture series on Wednesday November 11, 2015. Dr. Green's keynote address focused on business strategy and risk management in the global economy. He discussed these issues from the perspective of a fast growing Northeast Ohio consumer products company.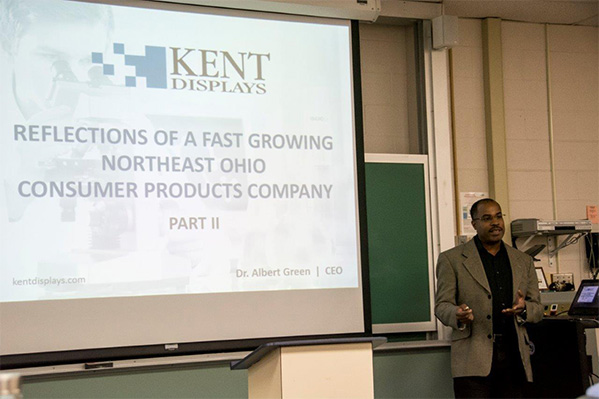 More than eighty senior level undergraduate and graduate MBA students attended the 2015 EBF. Students appreciated the opportunity to learn first-hand the art of crafting and executing strategy in a global economy from Dr. Green's personal examples. During his address, Dr. Green inspired and challenged budding professionals who related well with his eloquent presentation that provided significant takeaways in strategy and risk management.
Dr. Green is the Chief Executive Officer of Kent Displays Inc. and serves on its Board of Directors. Dr. Green holds over 25 patents in the areas of photonic systems, displays, and advanced materials. He advises the US government in several capacities including as an advisor to President Barrack Obama's Export Council. Dr. Green holds a BS in Physics from The University of Chicago and a PhD in Physics from Stanford University.