Tweet
University of Akron Student Wins Blimp Ride through Partnership with Goodyear Tire & Rubber Company
11/04/2013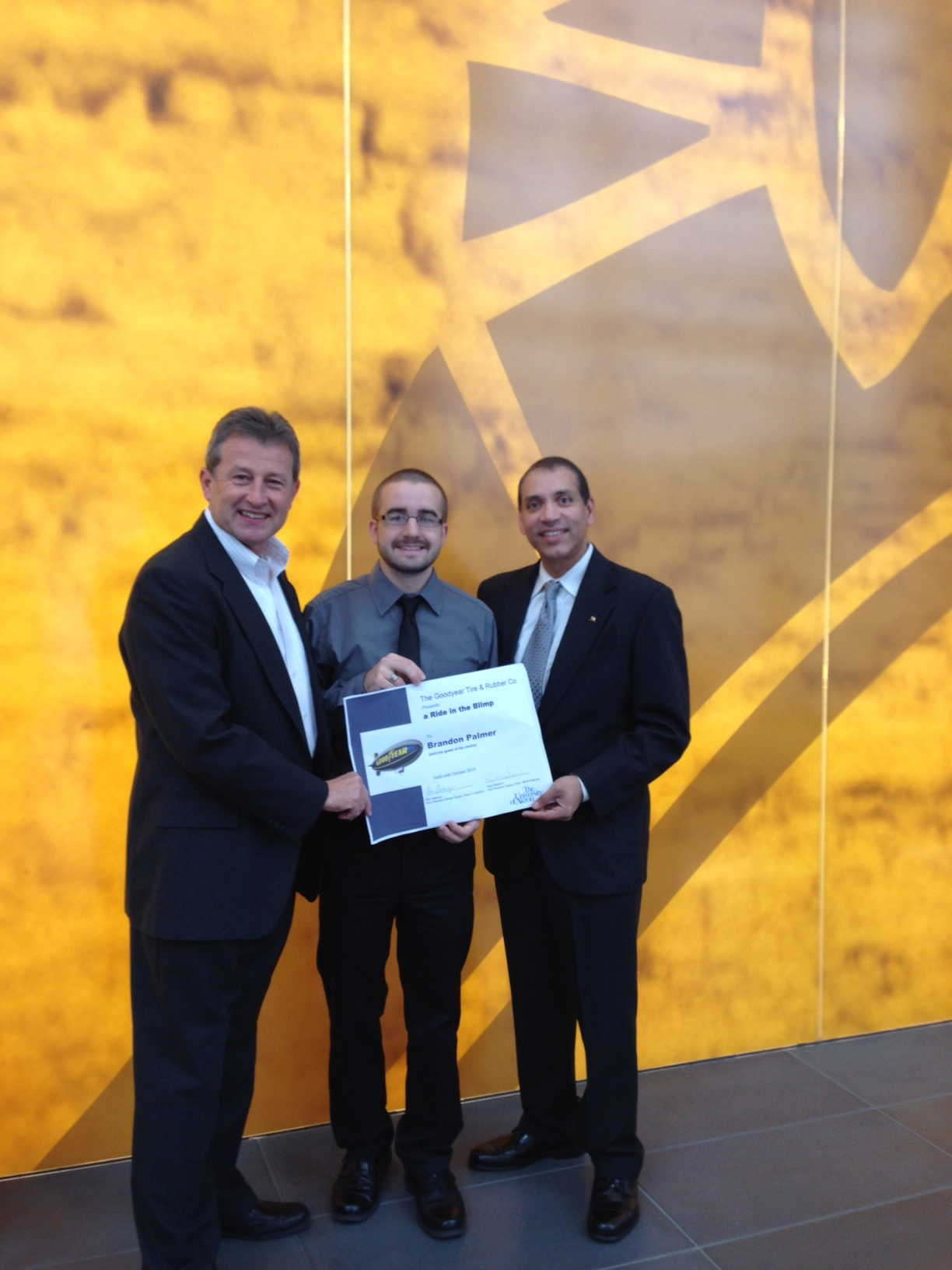 Earlier this year, Don Delaney, VP of Global Supply Chain & Logistics met with The University of Akron's Dean of the College of Business Administration (CBA), Dr. Ravi Krovi, to discuss a new collaborative partnership with the CBA and Goodyear's Supply Chain organization.
"This partnership will enable Goodyear to bring in top talent from the university and provide students with real life examples to take back into the classroom," Delaney said at the time.
Many activities have taken place since then. In September, the University of Akron Supply Chain Student Organization visited Goodyear's new global headquarters and met with Delaney and Ryan Waldron, VP Supply Chain of North America, along with other leaders from supply chain and human resources. Luis Cuellar, Director Supply Chain Business Process Excellence, John Stropki, Director Supply Chain OTR and Greg Dowell, Director Supply Chain Supply Planning have acted as "Professor of the Day" in undergraduate and graduate supply chain classes to speak about the company strategy, different issues related to supply chain, and the Sales & Operations Planning (S&OP) process at Goodyear.
As a way to provide students an opportunity to gain real-life experience while obtaining their degree, the Global and North America Supply Chain organizations will welcome four interns this coming summer to work on real, value added projects for the company. This is a new internship program which is only open to University of Akron students and is designed to provide development and professional opportunities as well as deliver a completed project(s) sponsored by the supply chain leadership team.
"This internship will help build a talent pipeline for our full time rotational program in North America" said Waldron.
Amid the activities, students had the opportunity to win a ride in the Goodyear Blimp, once the new airship is commissioned next year. Brandon Palmer, an undergraduate majoring in Economics and minoring in Supply Chain, is our 2013's winner out of 125 participants!
"We would like to congratulate Brandon on winning this once in a life time opportunity and wish him the best of luck in completing his undergraduate studies! We also look forward to welcoming the first 4 participants in our Goodyear & University of Akron Internship Program next summer," said Delaney and Waldron.