UA Economic Summit will explore impact of global events on local economy
02/19/2020
How do global and national events like the 2019 coronavirus outbreak and the U.S. presidential election impact the economy, and what influence do these topics (and others) have on Northeast Ohio? The 2020 Economic Summit at The University of Akron will break down the ways these events shape the economy and affect the Akron public's wallet.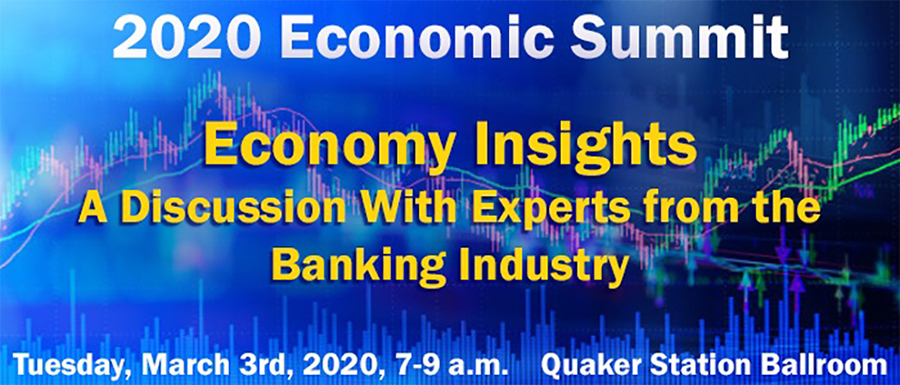 Hosted by the College of Business Administration's Finance Advisory Board, the Economic Summit will be held from 7 to 9 a.m. Tuesday, March 3, in the Quaker Station Ballroom. The annual event allows UA students and faculty, business professionals, civic leaders and other community members to hear from a panel of economists and banking industry experts as they discuss the economic issues facing Northeast Ohio and beyond.
Panelists include:
Tom Jalics, director of asset allocation at Fifth Third Bank;
John Augustine, chief investment officer at Huntington Bank; and
Edwin Martinez, managing director derivatives at PNC Bank.
Moderating the panel will be Sandra Pianalto, CBA Executive in Residence. Pianalto, who earned a B.A. in Economics at UA in 1976, retired in 2014 as president and CEO of the Fourth District Federal Reserve Bank of Cleveland.
"The economy is forecasted to grow at an annual rate of 2% for the next several years," explains Dr. James Thomson, professor and chair of the Department of Finance, "yet the U.S.-China trade dispute; the uncertain impact of Brexit on Britain, Europe and the world economy; and the coronavirus impact on tourism and global supply chain pose tremendous uncertainty going forward."
The public event is free for UA students and faculty. Tickets for the general public are available for $35. Sponsorship opportunities are also available by contacting Andrew Antonucci, assistant director of development, at 330-972-6376. Proceeds will be used to fund scholarships for students in UA's finance program.
Registration is available online.
---
Media contact: Cristine Boyd, 330-972-6476 or cboyd @uakron.edu.