Piece of cake: Take survey, earn free food with students' new app
11/29/2017
A new app is giving fresh meaning to the phrase "food for thought."
In the minute or so it takes to complete an electronic survey, one can earn a free food item from a local restaurant thanks to HungerPerks, an app created by a group of University of Akron students and alumni.
Kyle Flynn, a senior studying marketing and sales, came up with the idea three years ago after deciding most survey methods are time-consuming and impractical. Using resources at UA, he started looking for "something faster and more efficient."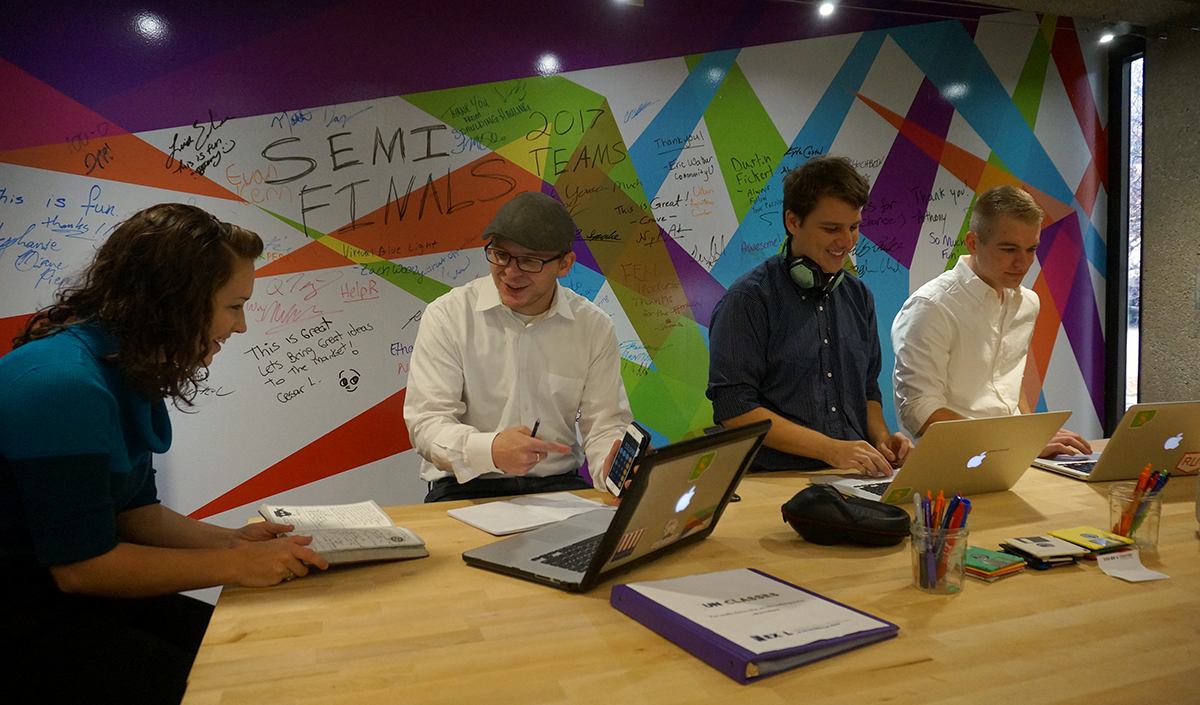 HungerPerks team members are, from left, Julia Mallinak, Kyle Flynn, Sam Borick and Nick Neral.
"UA and Akron in general are phenomenal places to plant the seed of a startup," Flynn says. "In a lot of ways, this is better than Silicon Valley. At the University, we have access to millions of dollars' worth of market research as students that we wouldn't have access to otherwise. It is so much more valuable than the tuition we pay."
Flynn's idea became reality through development of the HungerPerks app. Helping him were UA students Sam Borick, a senior majoring in computer science, and Nick Neral, a senior majoring in marketing management, along with alumna Julia Mallinak, who graduated in May after earning bachelor's degrees in marketing management, sales management and integrated marketing communications.
The HungerPerks app launched in July and now boasts more than 1,200 users in the Akron area. HungerPerks currently serves restaurants in downtown Akron, but the team anticipates demand from larger chains in the future, and plans to expand into Cleveland, Columbus and Cincinnati in the next year.
New app well received by businesses
Each survey is kept brief, with only five to 10 questions. Local restaurants and chains utilizing HungerPerks are impressed with their results. "Hunger Perks has been a great way to get new customers in the door," says Mary Hospodarsky, owner and head baker at Sweet Mary's in downtown Akron. "The app helps them find us, a free item gives them an incentive to come in, and through their survey answers we get valuable information about their experience that can help us shape the direction of our business."
Chad Magilavy, a co-owner of Diamond Deli, agrees. "We have seen a bunch of new customers coming in. We use the data we receive to see how we can improve our service."
"I think the biggest competitive advantage we have over other loyalty programs is we're building a system where every survey taken results in a reward," says Mallinak. "It is a one-for-one trade."
---
► Story by Erica Cantrell
► Media contact: Dan Minnich, 330-972-6476 or dminnich@uakron.edu.
---