Tweet
UA business students clinch first place in business case competition
02/17/2017
University of Akron students in the College of Business Administration won the fifth annual Undergraduate Business Case Competition held recently at Marietta College. A team of three UA students competed against teams from 16 universities across the region to deliver the best solution to a preassigned business case and claim the first place prize in the competition, sponsored by Peoples Bank.
"This is the first time that UA has participated in this competition," said Dr. Bhanu Balasubramnian, faculty advisor and assistant professor of finance at UA. "Our students utilized their business knowledge to create an exceptional solution to the business case. The discussions between the panel and the team were very intense, but our team was well-prepared, stayed focused and provided thorough and thought-out answers."
The team was comprised of three UA seniors – Preston Matos from Tallmadge, Layne Scheufler from Orrville and Eric Vlahos from Munroe Falls. Matos and Scheufler are both double majors in corporate finance and financial planning, and Vlahos is a marketing management major.
The students spent more than two months preparing for the competition, which involved creating a strategic marketing plan and deciding how to solve a financial business case. The event included two rounds where students presented their business case and answered a series of case-related questions before a panel. The panel included Chuck Sulerzyski, Peoples Bank president and CEO.
Their demonstrated professionalism as well as their innovative solution to the business case led to the UA students being selected for future interviews for Peoples Bank's Professional Development Program, which guides trainees through all aspects of banking.
The team attributes their planning and success to professional internships, business courses, Department of Finance faculty and to their faculty advisor, Dr. Balasubramnian.
Other universities taking part in the competition included The Ohio State University, West Virginia University and Cleveland State University.

Story by Courtney Bosetti
---
Media contact: Lisa Craig, 330-972-7429 or lmc91@uakron.edu.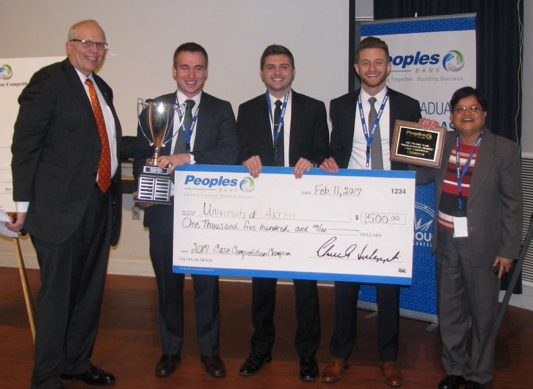 From left, Chuck Sulerzyski, president and CEO of Peoples Bank; student team members Layne Scheufler, Preston Matos and Eric Vlahos; and Dr. Bhanu Balasubramnian, faculty advisor.
---