Tweet
UA team hopes to rake in a win in national startup competition
2016-01-22 00:00:00.0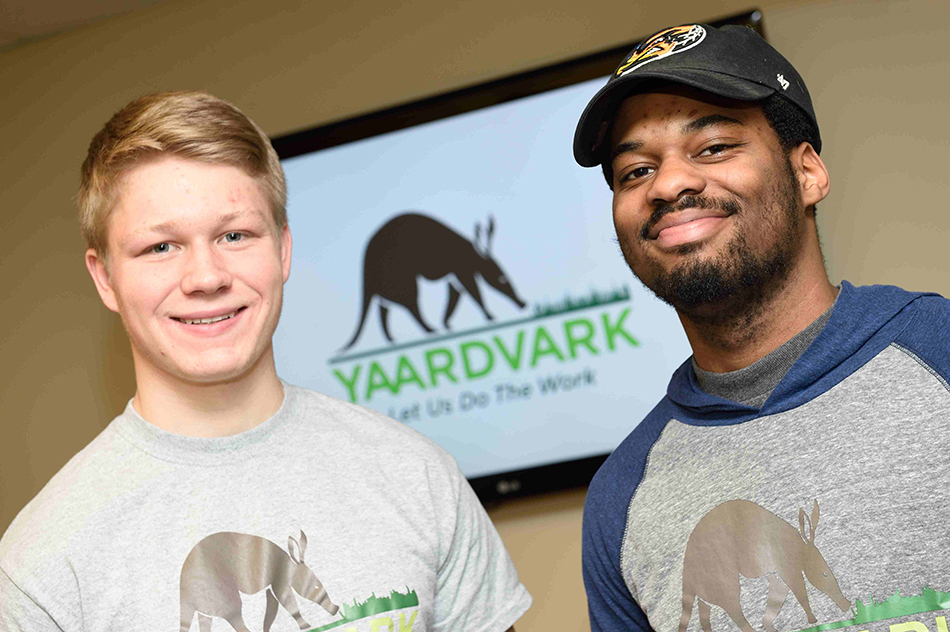 UA business majors Will Armstrong, left, and Charles Combest have won two rounds of the Student Startup Madness competition and hope to make it to the finals.
---
In the same way that a ride-sharing service like Uber matches drivers to consumers with transportation needs, Yaardvark helps homeowners get their outdoor chores done.
And, like Uber, Yaardvark operates in the digital world. In this case, matching consumers through its website to students who will rake leaves, weed, plant flowers, put down mulch, or mow — all to earn money for school.
UA freshman Will Armstrong launched Yaardvark just last fall, and he's hoping that a win in the Student Startup Madness tournament for digital media startups will help him grow Yaardvark far beyond his hometown of Kirtland, Ohio.
Armstrong, a double major in sales management and marketing management, and his teammate, Charles Combest, of Westerville, Ohio, a junior majoring in integrated marketing communication, have already made it through the first two rounds of the national tournament, which were held online.
UA only Ohio team in the competition
The UA team was one of more than 100 from around the country at the start of the competition last fall. Since then, the field was first narrowed to 64 teams, and is currently at 32. Other schools include Harvard, Bucknell, Michigan State, Syracuse and Texas Tech universities.
This is the first time a UA team has entered the competition, founded in 2012 by South by Southwest Interactive in Austin, Texas. UA is the only Ohio school in the field of 32.
The "Entrepreneurial Eight" chosen to move on will pitch their business plans in person to a panel of entrepreneurs, venture capitalists and investors at the Student Startup Madness national finals in Austin on March 14.
The UA team has been polishing its business plan with the help of Robert Chalfant, director of the UA's Fitzgerald Institute for Entrepreneurial Studies.
While it is Armstrong's startup they are pitching, Combest is happy for the experience. "I love marketing, and I am happy to help in any way I can."
Experiential learning at its best
"It's a very prestigious competition, held in a part of the country where you see a great deal of emerging technology and startup companies," says Dr. Terry Daugherty, chair of the Department of Marketing in the College of Business Administration. "Yaardvark is a very good idea — simple to understand, easily implemented and serving a universal need. I'm excited for Will and Charles, and for how far they've been able to take this."
Armstrong, who has done yard work for years, says his customers gave him the idea.
"When they knew I was headed off to college, they wanted to know who was going to take my spot," he explains. "I didn't have any names for them."
Soon, he did, along with a website. Now, customers post chores and there's a pool of reliable student workers with varying skill levels to handle those chores. Just like Uber, Yaardvark customers can provide reviews after every job is completed and there is a point system for the workers — the better the review, the more points a student can earn, which leads to getting the better paying jobs.
Armstrong's business can be found on Facebook, Instagram and Twitter, all at yaardvarkinc.
And if Team Yaardvark moves on to the finals and wins some cash or software?
"An app is next, for more exposure for the business," says Armstrong.